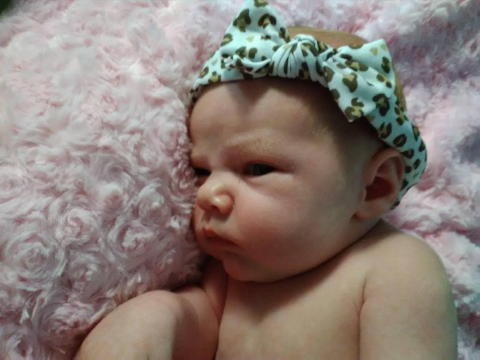 Chad and Amanda Moore of Arnoldsburg would like to announce the arrival of their second daughter Sophie Ann Moore born April 23, 2018 at Camden Clark Hospital weighting 7lbs 2oz and was 20 in long. Sophie was welcomed by her big sister Rhiannon and cousins Damian, Dylan, Avery, and Natalia.
Paternal grandparents are Debra and Tim Hornbeck of Arnoldsburg and Bobby Moore of Arnoldsburg. Maternal Grandparents Marshall and Karen Cain of Spencer.
Paternal Great-Grandparents George and Barbara Church of Arnoldsburg and the late Alvin and Lizzy of Reedy. Maternal Great-Grandparents the late Lee and Violet Murphy of Reedy and the late Oscar Cain and Sue Hardman of Spencer.