The "Mayor of Five Forks" is 83. Willard Jones has been pickin' and grinnin' with his banjo for nearly 65 years, starting off at "literaries" down on Yellow Creek. Willard, members of his family and a dozen or more of his old time pickin' friends have entertained at thousands of special events, reunions, homecomings and revivals.

The Friday night bunch at Al's Barn in downtown Munday, honored Willard with a birthday party. "Music has brought me great contentment," said Willard. "It sure never made me any money, but it has made me very happy. I hope it has made other people happy, too."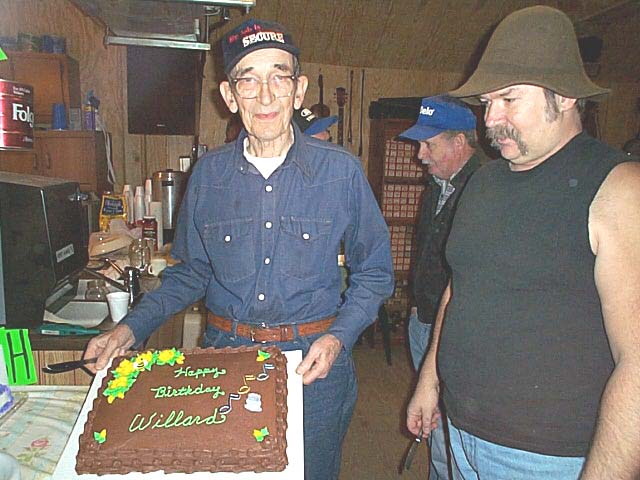 Willard Jones is 83, Al Hogan presents the "Mayor of Five Forks" a cake

Willard said he is grateful for Munday resident Al Hogan for creating "The Barn," a place for tune makers to come every Friday evening. Hogan came to Munday in 1995 from Delta PA. "Things were getting a little crowded around there," he said.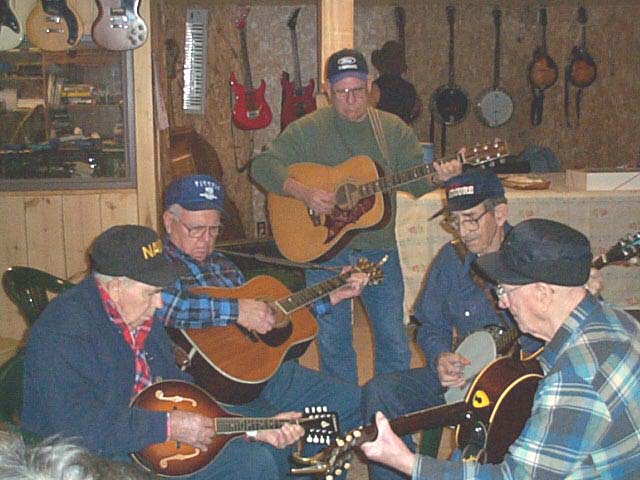 (L to R) Clarence Mills, Herb Smith, Richard Weaver, Willard Jones and Eb Swisher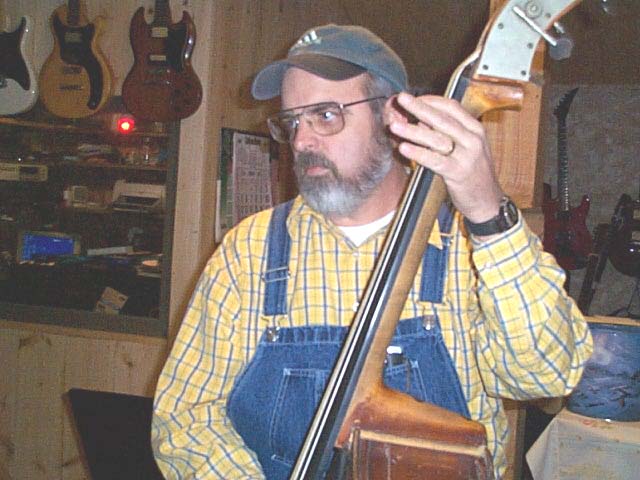 Johnnie Jones on bass

Hogan said he is deeply appreciative of the local musicians who come by. "They are a talented bunch of guys and great people, too." His primary goal, using his recording studio, is to preserve their mountain music. "We want to keep the music going," he said. The public is invited to stop by on Friday evenings.

At least four of Friday's seasoned performers are 80 or over, Clarence Mills of Munday, Herb Smith of Grantsville, Eb Swisher of Big Bend and Willard of Five Forks.

Eb Swisher and Clarence Mill took time to tell some Creed Brooks stories from the early part of last century.

Eb: Most people heard about Creed always being struck by cars on Route 5. The most memorable when he was knocked over the hill into the river by Winfield Thomas. Creed crawled back up to the road and and said to Winfield 'You pay your damages and I'll pay mine'.

Clarence: A salesman stopped at Creed's place and told him a tale about a 100 pound fish he caught. Creed listened to the fish story and told the salesmen his own story about fishing in the Little Kanawha late one night. A giant fish came up and swallowed his lantern. Creed said a few nights later he was fishing and the fish came up again with the lantern still burning in its mouth. The salesman said "Do you really expect me to believe a yarn like that?" after which Creed said: "You shave 50 pounds off that fish and I'll blow the lantern out."

Eb: We had a great time around Big Bend, particularly at Holbert's Store. We boys would help Mr. Holbert unload a truck of watermelons and always drop the biggest one to eat, every time. Holbert would come out and ask us if we had done it on purpose. He knew. He was a generous man who helped a lot of people.

A few of the other performers attending Willard's party: Charles Jones, Richard Weaver, Starling Holbert, Earl Blair, Johnnie Jones, Wayne Snider, Eugene Parsons, plus wives and family members. The group enjoyed a dinner and the cutting of Willard's cake.

Mostly, it was music, tales and laughter. Traditional songs familiar to most everyone in Appalachia, played with spirit and reverence.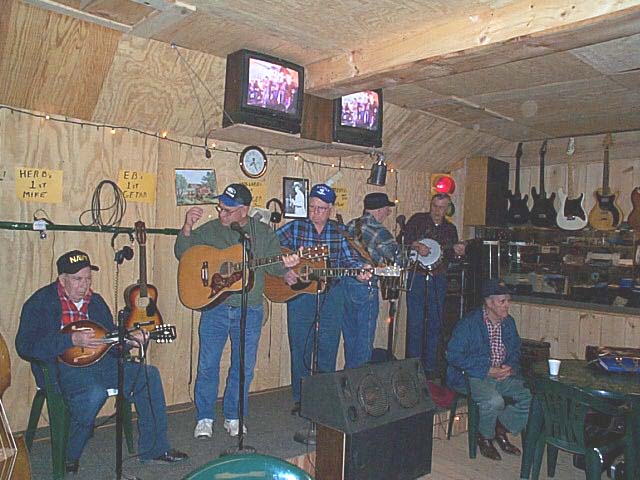 Pickers, pick up the tune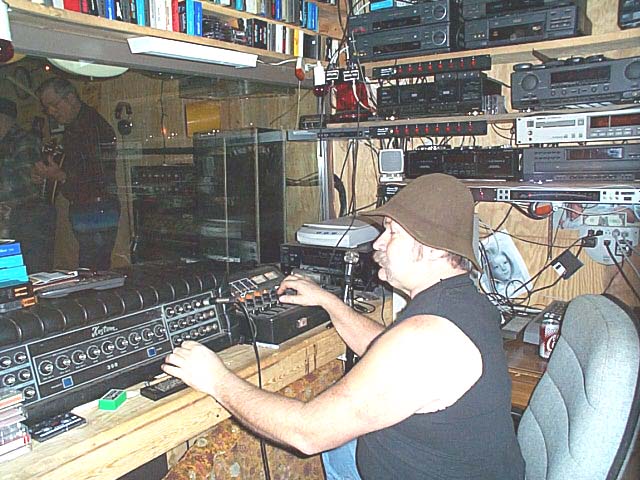 Al Hogan records old mountain tunes

It was a really nice evening for Calhoun and Wirt County folks to say thanks to the likes of Willard Jones and his many friends.