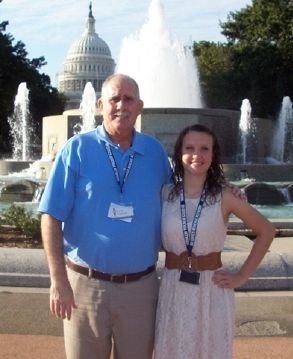 Calhoun Social Studies Teacher Dan Cosgrove and freshman
Darla Harrison, West Virginia Student Ambassador at the
National Constitution Day celebration in Washington D.C.
in September 2014. Each year a teacher and student is chosen
from each of the 50 states to represent their state at the event
Calhoun social studies teacher Dan Cosgrove will receive the West Virginia Division of Cultures History Hero award for Calhoun County.
The event, honoring 50 WV history heroes, will be during a History Day program at the Culture Center on January 19.
Cosgrove was nominated by the Calhoun Historical Society.
Cosgrove has developed lesson plans for the WV State Museum and WV Public Television, including numerous research trips, encouraging students to research history topics, including taking students to visit the local Heritage Village.
He has had local students speak with WV legislators, having students give presentations to the Calhoun Historical Society.
Cosgrove was the 2014 History Teacher of the Year in West Virginia.
The purpose of the History Hero awards is to give state level recognition for the persons work and accomplishments.