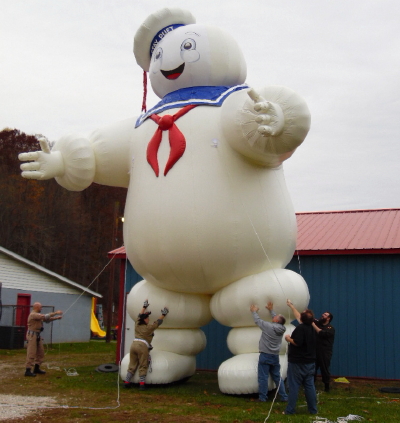 WV Division of Ghostbusters erected their
giant "Stay Puft Marshmallow Man" at the
annual Halloween event in Arnoldsburg Saturday
Lots of ghosts to bust at the Calhoun Halloween Party at the Arnoldsburg Community Building on Halloween, games, costume contests, and treats, an annual event conducted by a group of dutiful volunteers.
A highlight was the appearance of Ghostbusters West Virginia Division, a fan club dedicated to the 1984 Bill Murray and Dan Aykroyd classic, with their giant Marshmellow Man plus their Ghostbusters car.
Ghostbusters WV is a philanthropic organization, raising funds for the Children's Home Society of West Virginia.
ARNOLDSBURG GHOSTIES