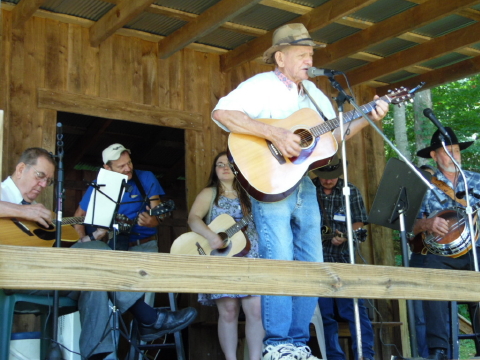 Charlie McKown belts Randall Whytsell's "West Fork
Valley Home," assisted by regional musicians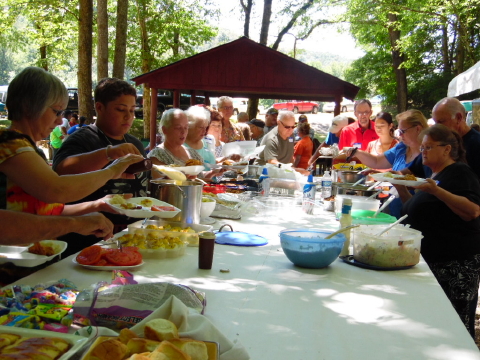 Tables spread with country cookin' delights
Folks gathered at the Whytsell Park between Rocksdale and Richardson for the annual Whytsell Reunion Sunday, enjoying a bountiful meal, gospel and bluegrass music, but most of all renewing acquaintances and storytelling.
For 40 years, the singing of Randal Whytsell's "West Fork Valley Home," has been part of the entertainment, this year belted-out by Charlie McKown, accompanied by regional musicians.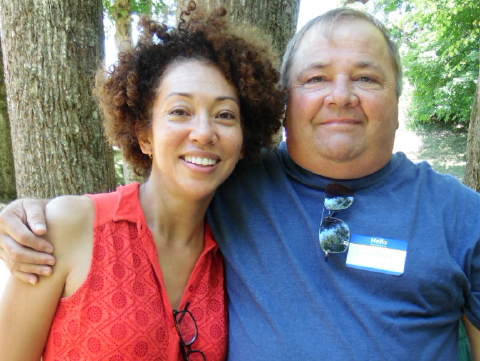 Dee Stemple Hobbs, CCHS Class of 1981,
reunites with teacher Larry Harris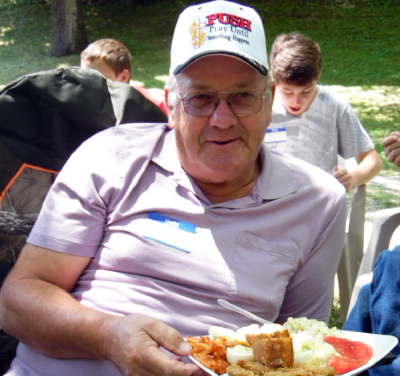 Gary May said of the food, "I really
tried to find something I didn't like"
A moment of silence was observed in memory of John Elliott, a long-time musical performer and attendee who just passed at age 91.
The reunion has been carried on by Marvin and Peggy Whysell Stemple, since the passing of her parents, Randal and Blanche Whytsell.
Photo albums on display recall the hundreds of local and regional citizens that have attended the event over the years, now passed on.