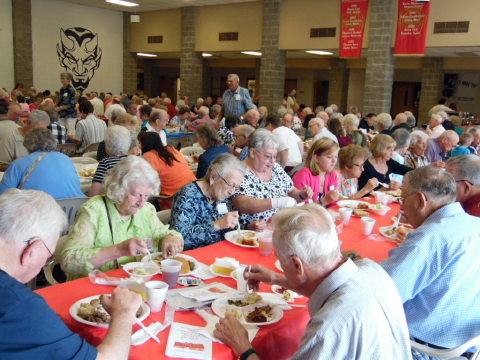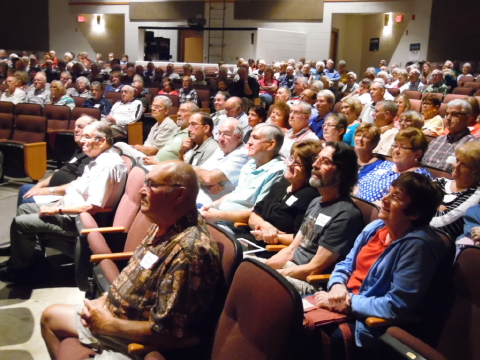 Alumni gather to recall Calhoun school days
By Bob Weaver
Calhoun County High School alumni returned to the county this past weekend to renew acquaintances and recall school memories. It was the 28th alumni gathering.
A notable feature in the program was two pages of alumni who died since the last event.
Big Bend resident Joe Cain, a local veterinarian and member of the class of 1945, spoke for his 70th anniversary of class.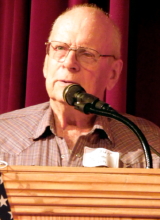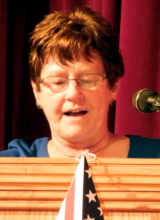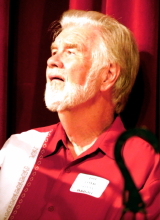 Alumni speakers (L to R) Joe Cain (1945), Barbara
Cottrell Travis (1965), Loyd Wright (1955)
Cain recalled the turbulent years of the early 1940s. "The war (World War II) broke out when I was a Freshman, we didn't have any idea what that would mean," he said.
He said that "Phys Ed during those years meant that students would run a distance from Calhoun High in Grantsville to the NYA building up river for a little exercise," knowing that many young men would be going off to war and needed to be in shape.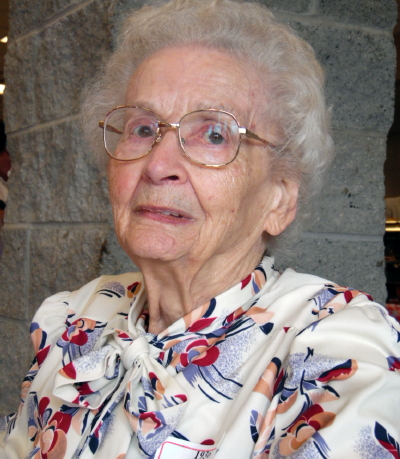 Oldest alumni attending Eileen
Hamilton Whitman, Class of 1936
See EILEEN HAMILTON WHITMAN GRADUATED FROM CALHOUN HIGH IN 1936 - Will Return To 28th Alumni Day
Cain apologized for the possibility of getting emotional recalling those hundreds of WWII young men, women and their families, with Calhoun sending among the highest number from any US county per population, many to not return.
See A JUST AND HONORABLE CAUSE - Washington's World War II Memorial Recognizes Calhounians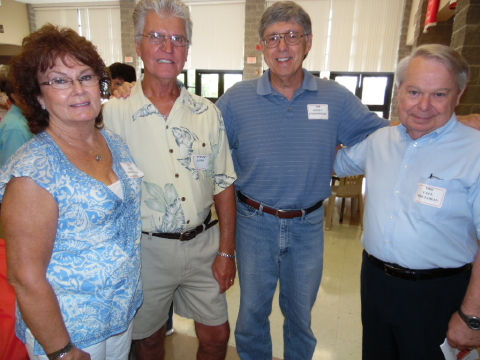 Gathering: (L to R) Julia McDonald Jarvis
(1962), Roger Jarvis, Hur Herald column writer
Sidney Underwood (1960-Hur Herald writer of early boyhood days) and Paul Mollohan (1960)
Barbara Cottrell Travis, speaking for the 50th anniversary of the Class of 1965, joined Cain in honoring Calhouners, including those who served in Vietnam, both speakers asking for veteran attendees to stand and be recognized.
A large number in the crowd stood up.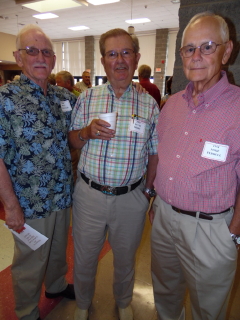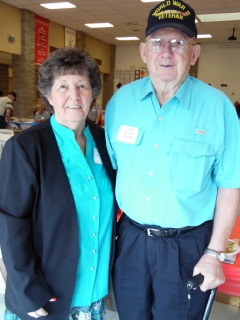 Old pals Bill Umstead (1960), David Kirby (1954) and Mike
Ferrell (1954) whose lives are recalled in Kirby's "Pine Creek
Tales", right, WWII veteran Eugene Stump (1942) and wife
Cottrell said, "We go back to a time that was likely the best years of out lives."
Loyd Wright, president of the alumni group, spoke for his class of 1955, while recognizing the small group of dutiful alumni who put on the event every year.
The attendees enjoyed a catered luncheon, while several classes had mini-reunions, visited and snapped photos.
ALUMNI SCRAPBOOK: Spot Folks You Know