By Bob Weaver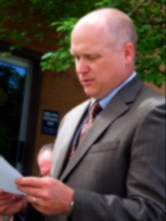 Minnie Hamilton CEO Steve Whited (right) announced Thursday the visionary construction of new $24 million health care facility for Calhoun County, replacing the time-worn facilities built on Hospital Hill, 56 years ago in 1959.
"Like the leaders and builders before us, the project that we are working towards will require leadership, foresight, and careful planning," Whited said.
"This will be a long journey, but a fruitful and necessary one. We are making a difference"
MHHS is the regions largest employer and provides over 275 jobs and over $14 million annually in local salaries.
Whited, making the official announcement during a ceremony where Minnie Hamilton Health System received a $17,500 check from the Parkersburg Area Community Foundation "Give Local MOV" project, said it has been determined that upwards to $2 million needs to be raised initially to make the project feasible.
A timetable of breaking ground to completion is 18 to 24 months.
He said it is imperative that we build a new facility in order to continue meeting the needs of the community in the foreseeable future.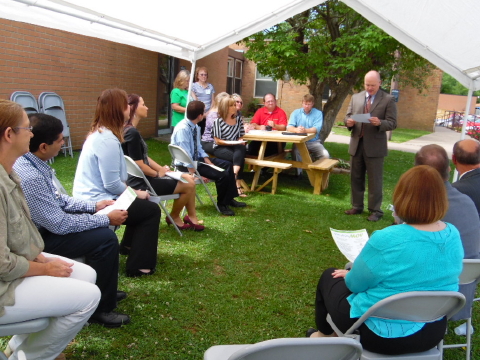 "Today marks a beginning point of an idea that began many years ago, a culmination of vision, hard work, and determination of many individuals," said Whited.
"The biggest change is yet to come, and we need the communities help to make it a reality," he said, indicating everyday challenges include regulatory burdens, replacement of outdated, hard to find expensive materials, and the ability to expand needed services due to space restrictions in the aging facility.
"We are a community of friends and neighbors, both representing present and future. Friends who share a vision and aspiration for the future of our community," with donors already stepping up," he concluded.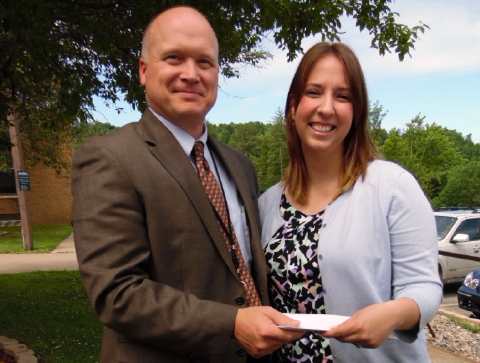 Julie Boyce of Parkersburg Area Community Foundation
presenting MHHS with check for $17,500, raised through
a one-day GIVE BACK LOCAL fundraiser by the agency,
with MHHS topping 48 community participants