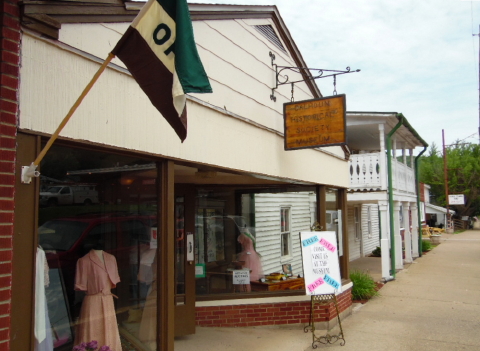 Calhoun Historical Society Museum and Stump Hotel (rear)
Seeing up-close the artifacts, photographs and documents that were used by Calhoun's early families is an opportunity afforded the public at the Calhoun Historical Society's museum and history center, located on Main Street in Grantsville.
The center will be open for touring during the Calhoun Wood Festival.
The center's other outstanding project is Heritage Village at Calhoun Park.
Displays are changed throughout the year, representing facets of times past, with the groups latest project remodeling the adjacent Stump Hotel, restoring the inside rooms to its original design.
The society is always hampered to complete projects because of lacking of funding, but members contribute endless hours of labor keeping history alive.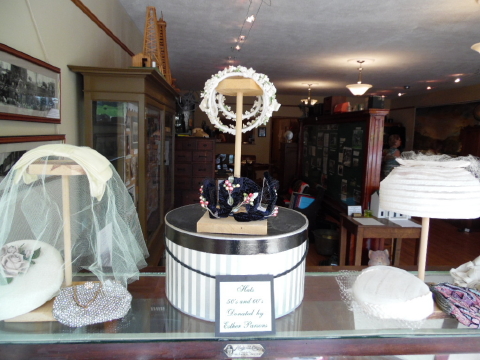 A featured window display is dedicated to Grantsville's
Quality Shop, operated for about 20 years by Gladys
Weaver Stump and Lonnie Oles, selling name brand
clothing to Calhoun women in the 1950s through the 1960s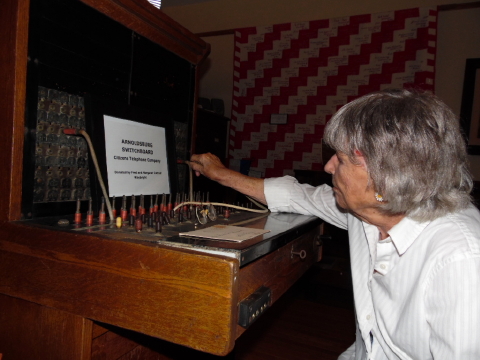 Helen Morris tries her hand at connecting phone
customers together on old Arnoldsburg switchboard
The museum is packed wall-to-wall with historical
artifacts, mostly donated by Calhoun families
See Calhoun County Historical Society facebook.com
A PHOTO TOUR OF MUSEUM