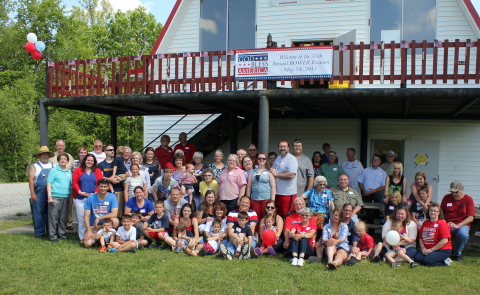 Family of Roy and Icy (Taylor) Bower and friends gathered at the Calhoun County Park on Sunday, May 24, 2015, for the 35th Annual Bower Reunion and enjoyed an afternoon of fellowship, food, singing and fun. There was a total of 92 in attendance for the annual Memorial Day Week-end Event.
Attendees included: Barbara, Jeff, Woody and Ben Taylor of Fairmont, WV; Lisa and Ron King of Waynesburg, PA; Darrell and Mary Bower of Creston, WV; Michelle and Jacob Serio, Dolores Leggett of Columbus, OH; Jerry and Lisa Bower, Jana and Corey Howell, Lexie and Cassie Foster, Kadence, Brantley and Audrey Wagoner, Vince and Kinli Bower, Mindi Anderson, Pat Bower, Michael Bower, Elizabeth and Mike Leisure, Morris Bower, "Toots" Blankenship, Angie, Austin, Grant and Jack Edman, Blake Summers, Kerri and Greg Buck, Darlene and Larry Roberts, Pam Sheppard, all of Parkersburg, WV.
Phillip and Micki Hickman, Jim, Rose and Daisy Sweetwood of Renick, WV; April and Noah Williams of Frankford, WV; Hatzel Hickman of China Grove, NC; Jason, Gayle and Luke Hickman, Ally Nicolais of Leroy, WV; Kathy and Jerry Hopkins, Wannetta and Tom Kemp of Elizabeth, WV; Gary and Carolyn Preston, Yuvhon and Frank Dotson, Linda and Scarlet Lawson of Belpre, OH; Delma Atkinson of Brunswick, OH; Amber, Keegan and Ava Kirkpatrick of Gallipolis Ferry, WV; Ron and Ellen Owens, Andrea Owens of Davisville, WV; Charles and Donna Owens of Mineral Wells, WV.
Johnny and Gail Bowe of Washington, WV; Junior Owens of Ravenswood, WV; Alfred and Jeanie Hickman, Terry and Tim Hickman of Big Springs, WV; Stacy Hickman, Dalton and Jasmine, Jim and Sheila Garretson, Curtis, Kristin, Turner, Ryne and Kellen Garretson, Todd Godfrey, Ron Blankenship, Greta Richards, Kaylin Parsons, and Nancy Taylor of Grantsville.
A moment of silence and remembrance was observed for Cousins Vicki Owens (formerly of Ravenswood, WV) and Ed Leggett (formerly of Columbus, OH) who had passed since last year's event. The day ended with a hay ride to Heritage Village. Next year's event will again be held at the park on Sunday, May 29, 2016.