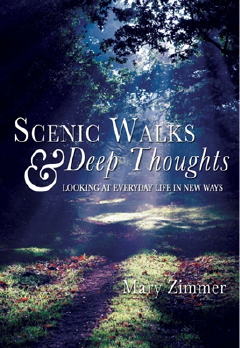 Scenic Walks & Deep Thoughts is a book of inspirational reflections written by Mary Zimmer former pastor of the Grantsville United Methodist Charge.

The devotions in this book were originally printed in monthly newsletters during the years that Pastor Mary served in Grantsville as well as where she is currently serving in Parkersburg at the Red Hill - Murphytown United Methodist Charge.

Author Mary Zimmer says, "Every time we open our eyes something or someone is speaking to us! God's creation people, animals, mountains, rivers, trees (yes, and even the insects) are sending messages and providing life lessons. Of course, our problem is an inability to see and hear all they have to say. For several years, I've been trying really hard to cultivate this wonderful awareness and in this book, I would like to share my discoveries with you. Just turn the first page and let the journey begin!"

The reader from Calhoun will recognize many of the places and things that Pastor Mary reflected on while living in Grantsville.

The book, 'Scenic Walks & Deep Thoughts' is available at Amazon.com and in Parkersburg at Christian Supply Centre.

A book signing event is scheduled from 10am to noon on May 30 at the Christian Supply Centre.