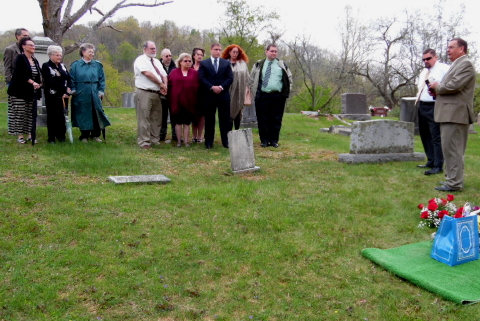 Earl Hamilton, 54, was returned to the Calhoun sod at Bethlehem Cemetery Thursday.
Rev. Rick Metheney spoke about Earl, afflicted with Downs Syndrome since birth, saying with his affliction he lived life like most Christians are encouraged to do.
"He was outgoing, helpful, quick to forgive and reconcile," said Rev. Metheney.
Earl is among the last Calhoun Hamiltons, whose historic family has contributed to the county since the 1800s.
See THE AMAZING LIFE OF EARL - Earl Hamilton (1960-2015) Special Olympic Achiever, Eagle Scout And Community Servant
THE HAMILTONS OF CALHOUN - Remembering "Boxcar"
THE ILL-FATED COOKS OF GRANTSVILLE - Cook Hotel Early Landmark, Civil War Veterans Died Young
HELEN HAMILTON IS LEAVING - Last Of Historic Family In Calhoun, "It's Been A Great Place To Live"
BEYOND THE CALL - Minnie Hamilton's Legacy, Down The Muddy Roads She Went