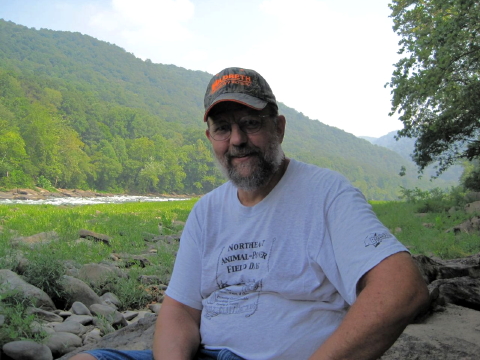 62-year-old Chloe resident Bill Howley died in an accident on I-79 on April 23.
He was on his way to a meeting in his capacity as the recently-hired program director for WV SUN, an organization that promotes self-reliance through solar cooperatives in West Virginia.
His last views were almost surely of the beautiful spring leaves and redbud blossoms.
Born in Washington, D.C. he found his true home on the farm that he and his wife, Loren, built together in Calhoun County after meeting in college. He passed innumerable teachings to their two sons, and he delighted in showing the farm to his two grandchildren.
He attended McDonogh School in Owings Mills, Md. and received a B.A. from Yale University in 1974 and an M.B.A. from Ohio University.
In addition to his life as a farmer, Bill worked tirelessly to improve the lives of West Virginians.
For many years, he advised artists and arts organizations on community projects throughout West Virginia and Ohio. He also coached and umpired children's sports teams, organized community classes on Shakespeare, tutored and mentored many children, and was involved in various community organizations.
Bill provided research and business assistance to various local law firms, including his wife Loren's.
In recent years, Bill became a leading consumer advocate on energy issues. He was an organizer of the successful fight against the PATH transmission line, which would have increased electric costs for ratepayers.
He founded The Power Line, a widely read online information source about the electricity industry and renewable energy issues. During and after the 2014 water contamination crisis in Charleston, Bill contributed his expertise and strategy skills to help organize citizens demanding reform.
He touched the lives of family members and countless friends and colleagues, who will remember his passion, intellect, and humor.
See complete obituary Bill Howley
READ: BILL HOWLEY DIES IN CRASH