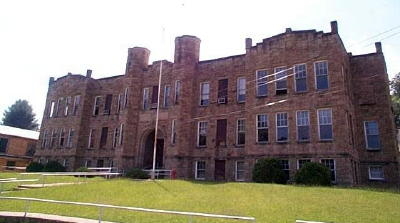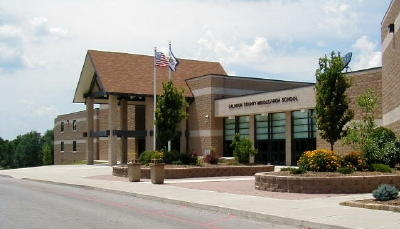 The 28th annual Calhoun High School Alumni Day is set for this Saturday, July 4 at Calhoun Middle-High School.
Classes to be honored this year include 1945, 1955, 1965 and 1975.
Speakers representing those classes and other recognitions will be made during a one hour ceremony.
The all-day event will start at 9 a.m. with a special ceremony at 11:30 a.m. followed by a luncheon.
In the afternoon, mini-reunions of designated classes will be held, in addition to picture taking and school tours.
The pre-registration fee is $15, with a request for alumni dues of $5, that money goes toward a scholarship to be awarded. At the door registration is $18.
Contact Jean Simers at 304-354-7315 to reserve rooms for mini reunions.
The alumni group is looking for volunteers to help with the event.
To register for the event ($15 with optional $5 membership) can be mailed to CCHS Alumni Association. PO Box 11, Grantsville WV 26147.
ALUMNI OFFICERS: Loyd Wright (1955) president 740-374-5108; Carroll Dean Weekley (1965) vice-president 304-917-4600; Jean Simers (1966) secretary 304-354-7315; Emily Gainer (1964) treasurer 304-354-6923.
REGISTRATIONS
1936 - Eileen Hamilton Whitman
1941- Ivy Von Yoak, Janette Marshall Stump, Glen V. Fowler, Rector S. Brown, Francis Cain
1942 - Jean Kelley Miller, Eugene Stump,
1943 - Mary Smith, Denver Roberts
1944 - Paul G. Bailey, Freda Radabaugh Yoak, Helen Carr Brown, David R. Chennoweth
1945 - Grace Yoak Richards, Jean McKown Stalnaker
1946 - James Bell, Harry A. Hatfield, Eula L. Elliott, Nancy McDonald Street
1947 - Ernest Smith, Dortha Knight Starling, Billie Dillon Ketch, Clyde Boggs, Marie Sturm Cheesebrew
1948 - William I. Ice, Madeline Fowler Moore, Iva Davidson Brannon, Mary Mosser Laton, Roy S. White, Irene Kendall Conrad
1949 - Nila Francis Smith, Patty Roberts Wyatt, George N. Bell, Jackie Gainer Robinson
1950 - Barbara Hale Reed, William A. Johnson, Lyle Wilson, Emma L. Stalnaker Chennoweth, Paula McCoy Roberts, Duane Poling, Dale B. Radabaugh
1951 - Virginia Weaver Buck, Robert E. Bush, Harry A. Newell, Donald J. Godfrey, Channon Dean Hupp, Calvin Jett, Hoy C. Dobbins
1952 - Dortha Cramer Turley, Wilfred C. Dobbins, Leona Jones Yoak, Joshua S. Owens Jr., Forrest C. Bower, Jr., Ramon Cunningham
1953 - Perry C. Deweese, Donzel L. Price
1952 - H. Paul Brannon
1954 - Monna Sampson Rice, Bob Bailess, Burl Nichols, Bill Woody, Naomi Scott Hinzman, Nina Godfrey McCartney, Emma Starcher Thorn, Michael Ferrell, Lois Riddle Johnson, David Kirby, Lyla Stump Sharps, Jerry Yost
1955 - Janet Booher Chadock, Loyd Wright, Frances McCollum Starkey, Gladys Jarvis Moore, William Shock, Janet Miller Davis, Shirley McKown Jett, Marilyn Starcher Marlowe, Junior Smith, Pat Kight Radabaugh
1956 - William R. Dillon, Virginia Ferguson Ice, Alta Mae Nichols Richards, Robert L. Nichols, Richard S. Atkinson, Jerry Clayton, Karen Snider Boles, Sandra Stevens Marshall, Roy L. Shaffer, Deloras Richard Sears, Tom Yoak
1957 - Mary Bailess Knotts, Carlene Nichols Frederick, James E. Hensley, Billy B. Wilson
1958 - Dottie Rose Radabaugh, Edsel Arnold, Verl D. Gibson, Roberta Offutt Wilson, Betty McCoy Kerby, Ralph Eugene Murphy, Bob Weaver
1959 - Kyle Hayhurst, Paul L. Vannoy, Ronald L. Newell, Betty Brown Arnold, William L. Godfrey, French Stump, James E. Knotts, Orma Stalnaker Downs, Ruth Joan Stump, Shirley Deel Murphy, Gloria Basnett Stevens
1960 - Mike Bell, Carolyn Stone Mahaney, Paul Mollohan, Sidney Underwood, Bill Umstead, Leona Fox Chandler, Mike Haymaker, Agnes Settle Schoolcraft, Carol Starcher Crum, Arnold Lee Schoolcraft, Carolyn Crawford Wilson, Helen Stemple Johnson, Betty Estep Kirby, Beverly Haymaker Price
1961 - Theda Roberts Deuley, Ronald L. Rose, Gene Siers, Dave Siers, Mike Vaughan, Herbert Smith Jr., Roger Huffman
1962 - Carolyn Brown Knotts, Julia Jarvis McDonald, Larry D. Cottrell, Frances Bullard Tawney, Sue Fleming Haymaker, Lewis Burl Simers, Janet Riddle Johnson, Mary Moore Moss
1963 - Judith Smith Swisher, Judy Shock Morton, Jim Yoak
1964 - Emily Stump Gainer, Patricia Siers Vannoy, Ronald G. Vannoy, Carol Yoak Taylor, Judy Stump Bonser, Phyllis Houchin Evans, John P. Kimble, Stephen A. White
1965 - Peggy Hall Kelmick, John J. Vannoy, James R. Sturms, Carroll D. Weekley, Carol Williams Bottenfield, Helen Morrison Irvine, Dale Cunningham, Janet Starcher Cunningham, Sandra Siers Murphy, Connie Jones Boggs, Lee Evans, Joyce Ball Fitzwater, Roger Propst, Nancy Bailess Taylor, Terry Snider Harris, Linda J. Sturm, Ronald Tucker, James Arthur, Sue Basnett Arthur, Denzil Dye, James R. Morris, Barbara Cottrell Travis, Donald Walker, Larry W. Siers, Joe Tingler, Linda Murphy Blair
1966 - Louise Cox Rose, Gary Steve Mowery, Larry D. Harris, Jean Muncy Simers, Nell Jean Smith, Nancy Roberts Yoak, Robert E. Yoak, Vivian Freed Dye, Newton Nichols, Bernard Blair
1967 - Georgia Basnett Stalnaker, George W. Whitman
1968 - Sharman Evans Mathews, Karen McKown Ellison, Robert N. Stalnaker
1969 - Steven Ellison, Denzil K. Richards, Sr.
1971 - Hazel Yoak Tingler, Eli Tingler, John Queen
1972 - Tom Knotts
1973 - Cheryl Cheesebrew
1974 - Rick Poling, Shara Robinson Arison, Charlotte Robinson Siegrist
1984 - Shelia Brannon Tingler