Transcribed by Norma Knotts Shaffer from microfilm of The Calhoun Chronicle dated 1/20/1966 with photos courtesy of Richard Jarvis.

FIRE TAKES GRANTSVILLE BUSINESS BLOCK
Businesses And Homes Are Lost

Fire!

For many years it has been one of the customary predictions around the town of Grantsville that the Odd Fellows building on Main street would go up in flames, and that it would take a good many other buildings with it.

These predictions came true Monday night in a disastrous fire which completely destroyed six business places, ruined a seventh, and left six families homeless.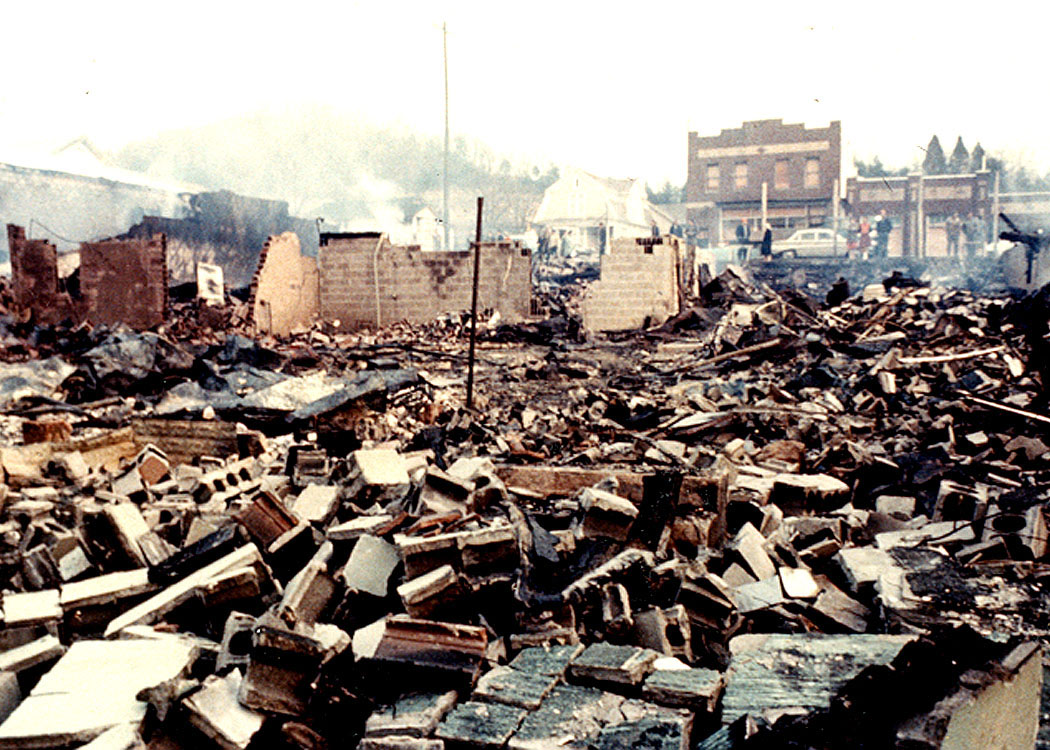 Aftermath Viewed From Mill Street Looking Toward Main Street
Super-Service Building Visible On Right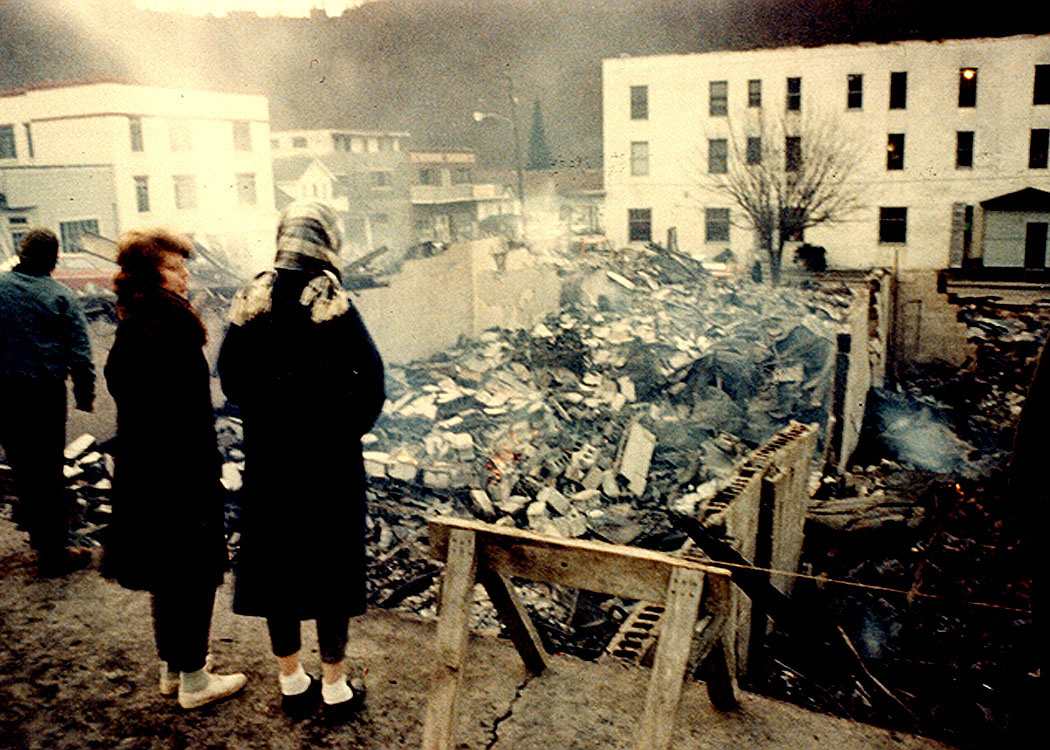 Bystanders Survey Damage
Viewed From Main Street With Court Street On Left
Rainbow Hotel On Right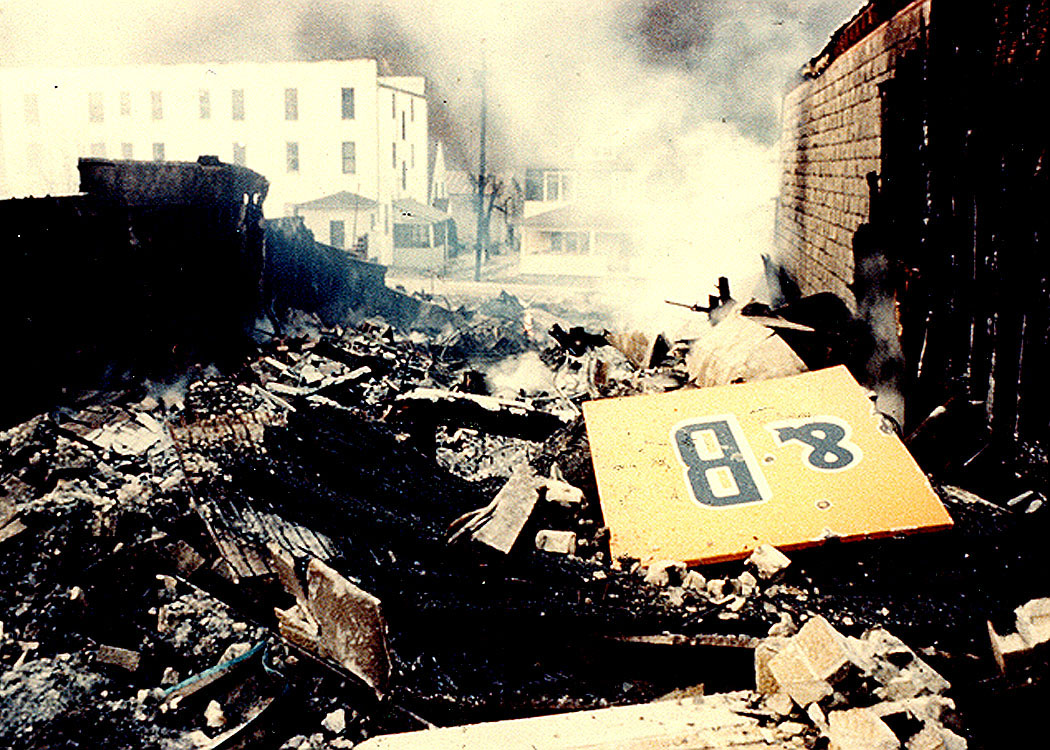 Remains of J & B Drugstore
Viewed From Main Street
Rainbow Hotel and Oren Atkinson Home In Background

Viewed from Mill Street Looking Toward Main Street
Courthouse and Masonic Building Visible on Right
Completely gone are these buildings: Gunn's Department Store, Odd Fellows building, including residences of Pete Riddle and Mr. and Mrs. C.H. Hardman, and the Hardman restaurant operated by Mrs. Bessie Arthur, Ward's Pool room, Garland's Grocery, J and B Drug store, Air Rifle Headquarters, operated by Bob Law, along with the Law family living quarters, all located in the P.P. Gunn building on Mill street, separate dwelling houses occupied by Mrs. C.S. Gladwell, Mr. and Mrs. Ernest Sturm, and Mr. and Mrs. Willis Haught, and another house vacated only two weeks ago by Mr. and Mrs. Harry Stevens. The Quality Shop building was also severely damaged, and the stock in that store was damaged by smoke and water.
Across Main street, the Calhoun Super-Service building was on fire at least three different times, and only the heroic and persistent efforts of a group on top of that building continually spraying it with water, saved it from destruction, and further spreading of the fire to other areas.
The Rainbow Hotel was continually threatened, but determined efforts by many firemen saved that building. The Masonic building and the Stump Dry Cleaners building were also threatened and had to be sprayed at times.
The fire siren sounded in Grantsville about 8:30 p.m., when flames were discovered in the restaurant in the lower floor of the Odd Fellows building. The three-story frame building and the adjoining frame building occupied by Ward's pool room, soon were an angry mass of flames. It wasn't long before the Gunn building was on fire on one side of the Odd Fellows building and flames traveled along Main street, taking in the building owned by Foster Poling and occupied by Garland Stump's grocery store. Soon it was in the J and B drug store building starting with the roof, which soon caved in.
Meanwhile the fire ha spread to the four frame dwellings back of these buildings, and to the rear Gunn building where Bob Law had his gun business and his home. Some of the Mill street residents had time to take out at least some of their furniture, the Ernest Sturm family living in the last in the row getting out most of their possessions. Their house was owned by Stanley D'Orazio.
The fire was fought in sub-freezing temperatures with low power. With the power off the water pressure lessened and no more water could be pumped to refill storage tanks and keep up the pressure. Water was pumped from the Little Kanawha river to supplement the supply coming through the water mains. Water storage tanks for the town were just about empty before the night was over and could not be refilled until power was restored.
The call for help was answered by many volunteers. The Grantsville fire department was soon on the scene, and seeing the prospects of a major disaster, called upon many other fire departments for help. Without the help, both of men and equipment of the many neighboring fire departments, it was felt that the fire would have spread over a greater part of the town.
Fire departments from neighboring towns responding with help included: Pennsboro, Harrisville, Smithville, Elizabeth, Spencer, Glenville, Ripley, Weston, Burnsville, and possibly others. Assistance was also given by several persons and firms with oil and gas field equipment, including South Penn Oil company, Dowell company, William Harvey, and others. All the visiting firemen and other volunteers, worked together in efficient manner, and brought the blaze under control in less than four hours.
Some of the men stood in precarious positions on roofs and atop ladders, for hours at a time, hosing down the flames to contain them in the one block area. One group stood for a very long time atop the old Stump house on Main street, hosing down the Quality Shop building, the place where the fire was finally stopped.
Through the whole disaster, there was no loss of life or injury by flames. The low temperature caused the water to freeze on the streets, and there were several falls by spectators, and one person, Roy Kerby, received a broken shoulder in a fall. The firemen worked on and on, too busy to think about their wet clothing which was soon frozen. Many stayed on the _________ night, leaving only when a cleanup crew arrived in the morning.
Many of the fire victims praised the efforts of a group of teenagers who spent all their energies helping to move out possessions in the path of flames.
Monongahela Power company sent out a crew of men to restore electric service as quickly as possible. Service in most of the area was restored in about five hours, with only one section in the Main street area without power until noon Tuesday. Workmen had to erect new poles and replace many lines in the area, keeping on the job all through Tuesday.
Telephone communications were out for a short time, about two hours, but workmen for the West Virginia Telephone company had service restored by midnight.
Estimates of the total damage range from half a million to one million dollars. Most of the business places had just completed inventory, and have in this an accurate listing of their lost stock. Nearly all were able to save their business records.
Cleanup crews were on hand early Tuesday morning, while firemen were continuing to douse the remains, flames breaking forth at intervals. By afternoon a bulldozer could be used to work over some of the rubble, the ruins still smoking all the while.
It was the biggest fire ever in Grantsville, a major disaster for the town, yet through it all, the people remained calm, many worked to the point of exhaustion, and all seemed glad that though this was a terrible loss, there was not one casualty.