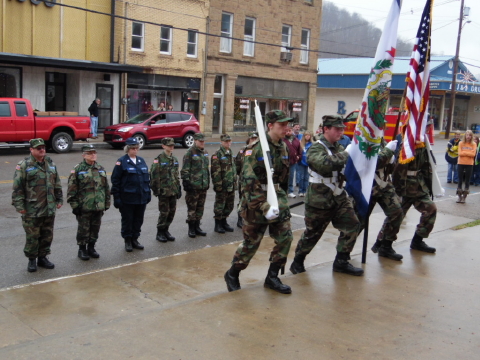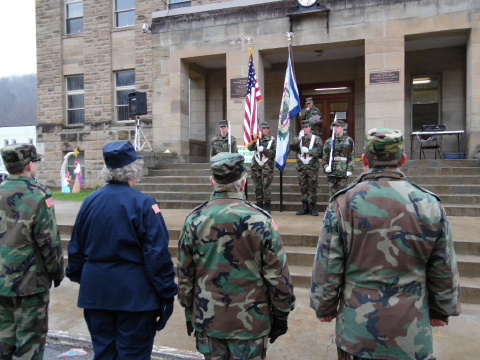 "Wreaths Across America" ceremony,
Saturday, was a day of remembrance

Calhoun's Civil Air Patrol delivered the message of "Wreaths Across America" at a ceremony Saturday in front of the Calhoun courthouse, while such ceremonies were being held at Arlington National Cemetery, all 50 states, 24 foreign countries and at nine ships at sea.

The local CAP and some Calhoun veterans placed wreaths for each branch of service at the Veterans Monument, while music from each branch was played, the ceremony concluding with the playing of Taps.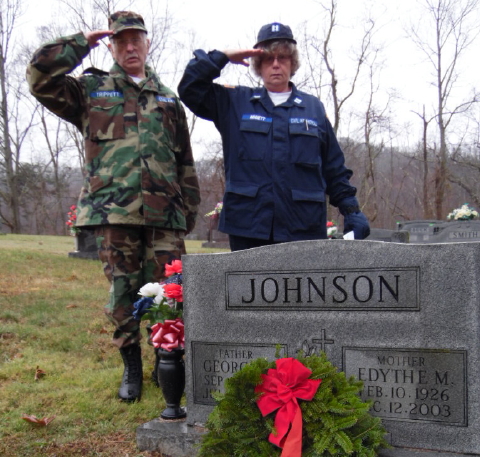 A wreath was placed on the grave of Staff Sgt.
George Johnson, a paratrooper in the 101st
Airborne Division at Bethlehem Cemetery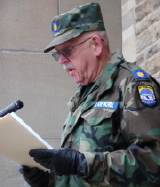 Civil Air Patrol squadron commander Lou Craddock (right) a decorated veteran himself, looked out at the misty fog laden hill above Grantsville, saying, "These Christmas wreaths we are placing on graves today is to honor and remember them."

A few residents braved the chilly and damp weather to attend.
Following military protocol, the wreaths were placed in Bethlehem, Pleasant Hill, Nobe, Mount Zion, Gibson, and Arnoldsburg cemeteries.
James Haught, writing for the Hur Herald, reminded us of the several thousand men and women who have served this nation from the back wood hills and hollows of Calhoun County.
"The men and women from this area were heroes," Haught wrote, with 1,700 in World War II.
PLACING OF WREATHS AT VETERAN'S MEMORIAL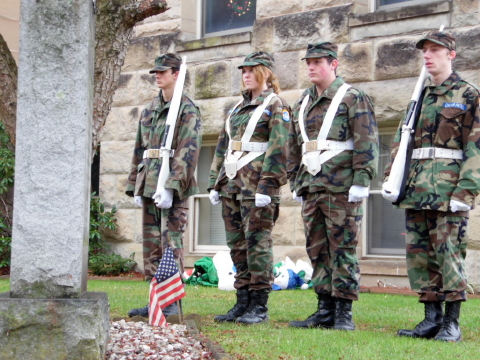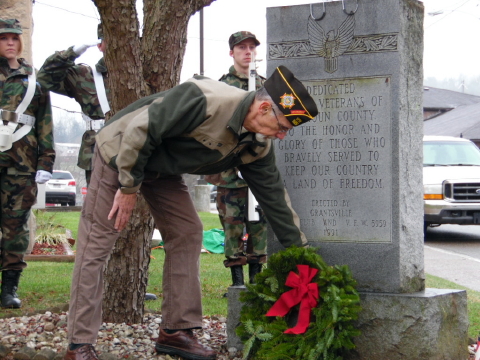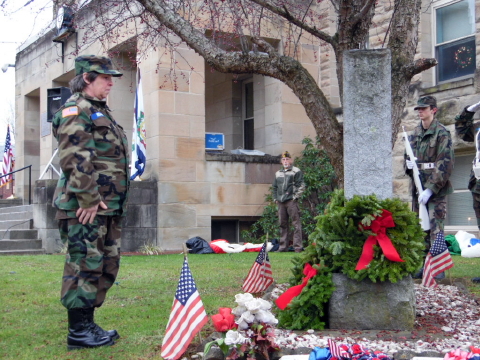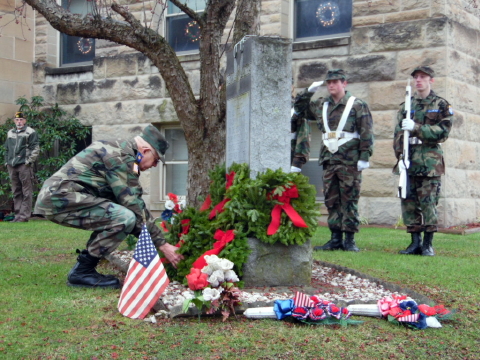 In that war alone, Fifty-two Calhouners gave their lives so that the world would be free of people like Hitler, Mussolini and Tojo.
One-hundred-forty received Purple Hearts, many becoming prisoners of war.
Four hundred and forty five received Bronze Stars.
Thirteen Calhoun men won the next highest metal, the Silver Star.
Three won Distinguish Flying Crosses and Bernard P. Bell won the Congressional Medal of Honor.
That was in World War II alone.
SOLEMN FACES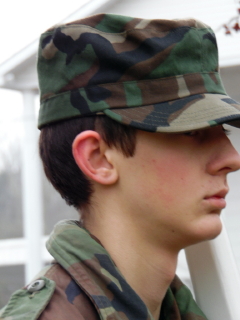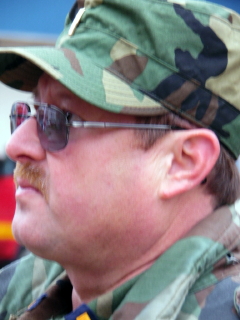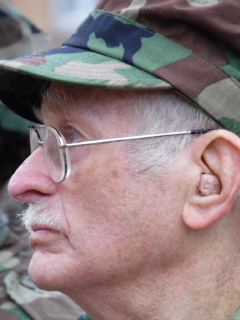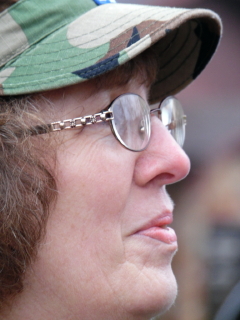 Calhouners made a name for themselves wherever they served, in whatever war.
Craddock spoke about the importance of remembering our fallen heroes, honoring those who serve, and teaching our children about the sacrifices made by veterans and their families to preserve our freedoms.