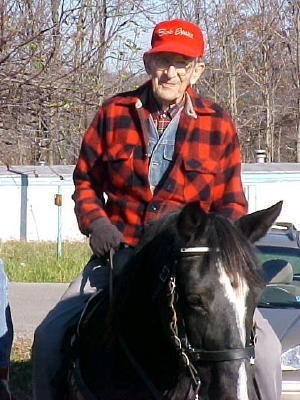 Well-known Calhoun man 91-year-old Willard Jones passed on in 2009, leaving behind his companion horse Shadow.
Shadow led the funeral party to Willard's resting place on Leading Creek, and made her final public appearance in this year's Wood Festival Parade.
Shadow died this week, her age recalculated to be 36, was buried on the family farm.
Shadow renewed remembrances of the life and times of Jones, whose character left a print across the Calhoun landscape, known for his music, storytelling, faith and good natured character.
Barbara Norman, who helped Willard's son Charlie look after the aging horse said, "She just laid down, couldn't get up and passed on. She was the most wonderful horse anybody could own."
Norman recalled a big day for Willard, after breaking his hip, he got on Shadow again for a trail ride.
Willard once said, "If there ain't a horse heaven, there's something mighty wrong."
Willard is missed by the Hur Herald for his spirit and storytelling, not to forget his annual winter weather prognostication, using his "weather rock."
See FIRST ANNUAL HORSEBACK RIDE IN MEMORY OF WILLARD JONES - Beloved Horse Shadow Is
WOOD FEST PARADE - 36-Year-Old Horse Recalls Jones' Life and Times