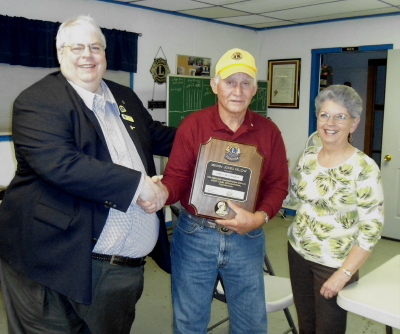 Past Lions Club district governors, Harrison Schramm (L) and Eva Dague present the Melvin Jones Award to Jim McCormick (center) of Grantsville, Lions International's highest recognition
Grantsville Lions Club member, Jim McCormick was recently honored with the Melvin Jones Award, Lions Club International's highest honor.
The Grantsville club was also named for their high achievement in membership growth.
McCormick has been a Lions Club member for 24 years. He has been club president twice, and will be president next year.
His many achievements include, bingo chairman for last 18 years—schedules events, transports equipment, etc. He has been Phone committee chairman for many years, stores club tent and other equipment in his out buildings.
He organizes maintenance on the club building, looks after opening and closing the building for meetings, and coordinates activities with Senior Citizens.
He also volunteers the use of his family cabin for summer picnics. He has been the top raffle ticket seller year after year, as well as settles finances with carnival at the end of the annual Wood Festival.