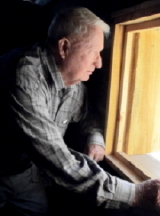 Longtime volunteer Jim Bell, a West Virginia History Hero, was recognized Saturday by the Calhoun Historical Society during the weekends "Legends and Lore" event for his dedication to the preservation of Calhoun's history.

PROCLAMATION

Be it known to all that The Calhoun County Historical Society honors James A. Bell with this proclamation.

WHEREAS, James A. Bell has been a dedicated fixture for decades in Calhoun County's history and culture

WHEREAS, James A. Bell has devoted many years of hard work to the development of the Heritage Village

WHEREAS, James A. Bell has donated equipment, machinery, and materials vital to the construction and restoration of historic structures

WHEREAS, James A. Bell was recognized as a History Hero by the West Virginia Humanities Council

WHEREAS, James A. Bell has organized and motivated many groups of volunteers

WHEREAS, James A. Bell has sought and procured numerous items for display

WHEREAS, James A. Bell has used his design and carpentry skills to repair, renovate, and create structures and furnishings

WHEREAS, James A. Bell continues to be a tremendous asset to Calhoun County in general and the Historical Society in particular

Therefore, be it RESOLVED that the Calhoun County Historical Society recognizes and honors James A. Bell for his tremendous contributions to the Society's purposes and programs.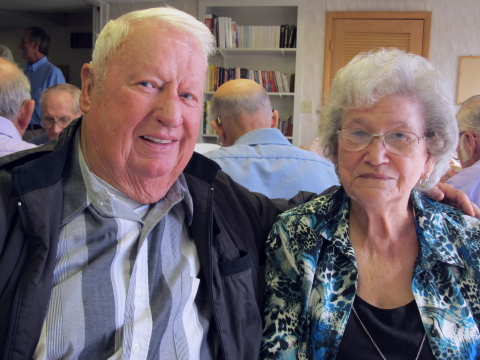 Jim and Juanita Bell celebrating 65 years together
See COBBETT'S "MONUMENTAL PIECE OF WORK" - Historic Stemple Cabin Gets Its Chimney, Bell's Fireplace
JIM BELL STILL VOLUNTEERING AT 87 - "Volunteers Are Really Dwindling"
BELL AND STEVENS - Calhoun's History Heroes Honored