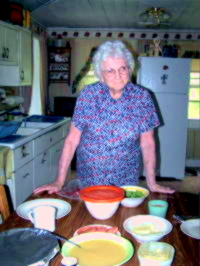 Annamoriah's ninety-seven-year-old Ethel Rader'd life along the Little Kanawha River has ended with her death.

Ethel had lived in a 130-year-old house beside the twisting river's great bend.

Other than a few trips to Ohio and a trip to Nashville to attend the Grand Ole Opry, she has been by the river since 1917, moving a short distance upstream from her birthplace in 1943 when she married Herbert Rader.

Ethel sharply recalled the Little Kanawha riverboat days. During her childhood (1920s), her family would fix cornbread and biscuits for the riverboat captains and workers. "They'd blow their whistle across the bend, giving us time to get the food to the river," she said.

The river had dozens of boats traveling up and down its waters, gasoline engine boats delivering goods and passengers from Parkersburg to Glenville. The riverboat years ended during the 1930s when roads were improved.

"Been through some floods," she said. "The big one was in 1967. Got in the house 22 inches. We just moved upstairs. Only lived in two houses in my lifetime and never really wanted to live anywhere else."

A long time "old saint" of the Snyder Chapel Church, see said, "I once bought a pack of cigarettes and smoked one. That day I went to church and decided it was not good for me and threw the rest away. Now, I did take a little nip of whiskey when I was young."

"I've seen some pretty hard times. I grew up in hard times, but I've enjoyed the work," she concluded.

Funeral services will be held at the Stump Funeral Home in Grantsville Friday at 1:00pm with Rev. Carl Marks officiating.

See complete obituary Ethel Rader

READ: ETHEL RADER'S RIVER LIFE - "I Grew Up In Hard Times"