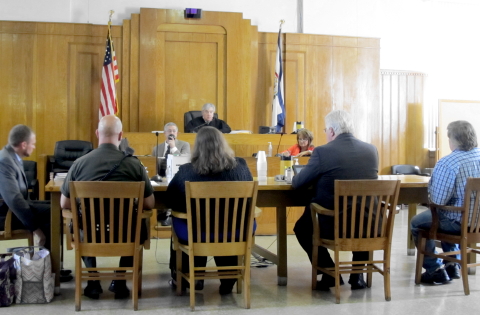 Thomas Husk (far right) was sentenced Monday by Judge David
W. Nibert six years in prison following a plea agreement
A Calhoun man, Thomas Lee Husk was sentenced Monday, charged with the voluntary manslaughter of John Dale Cyrus in 2011.
Husk had entered a no contest plea in August to voluntary manslaughter, according to Calhoun prosecutor Shannon Johnson.
He was originally facing a murder charge.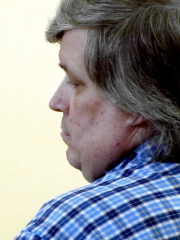 Judge David W. Nibert sentenced Husk to six years in prison, saying "This was a difficult case, and I gave it a lot of throught" indicating Husk used excessive force when Cyrus started a fist-fight with him, Husk then shooting him multiple times.
The offense was punishable with three to 15 years in the state penitentiary prior to the plea agreement.
Regarding Husk's pre-sentence investigation, Prosecutor Johnson and Husk's attorney John Oshoway, accepted the evaluation.
Nibert advised Husk following the sentencing he had the right to appeal.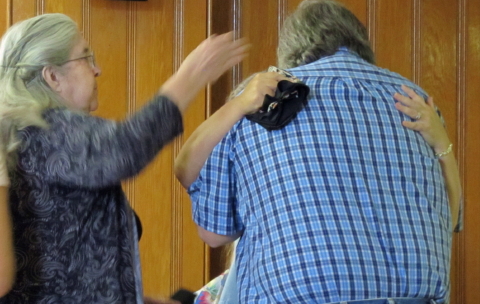 Husk family members wept openly as
Husk left courtroom to start his sentence
The six year sentence allows for time served, 1,015 days (mostly on home confinement). He could be released after three years on parole.
Husk's attorney John Oshoway addressed the court saying, "He (Husk) has taken responsibility for his role in this tragedy. This would not have happened if Mr. Cyrus had not precipitated the events."
Oshoway said officers reported Husk had posed no problems on home confinement.
Husk declined to make comments regarding his sentence, and he was taken into custody for transport to jail, allowed time to say goodbye to his family members, who openly wept in the courtroom.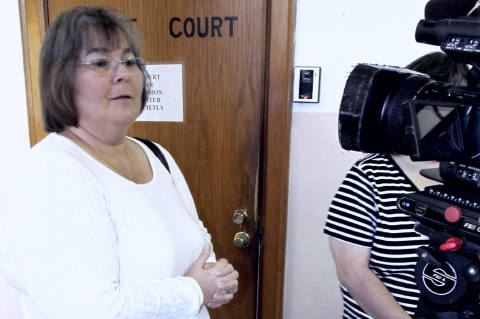 Judge Nibert asked the victim's widow, Elizabeth Cyrus (left) to comment. She stood before the court essentially declining to comment
The case has been through numerous hurdles in the court system, first with several failures to seat a jury in Calhoun and a trial that ended in a hung jury earlier this year in Roane County.
A new trial had been set in August in Pt. Pleasant, at the time of the plea agreement.
The 2011 shooting death of Cyrus followed what a criminal complaint said was a personal feud between the two men over family issues.
See earlier stories:
JURY RECONVENES IN HUSK MURDER TRIAL - Final Arguments Heard, Case Ends With Hung Jury
PROSECUTION WITNESSES TESTIFY IN HUSK MURDER TRIAL
CALHOUN MAN MURDERED AFTER CHASE TO DEAD-END HOLLOW - Husk Charged With 2nd Degree Murder
HEARING SET FOR HUSK THURSDAY - Memorial Will Be Held For Cyrus
JOHN DALE CYRUS VICTIM OF CALHOUN SHOOTING - Complaint Describes Encounter, Husk Charged With 2nd Degree Murder
HUSK WAIVES PRELIMINARY HEARING - Murder Case Sent To Grand Jury, Placed On Home Confinement, "Clearly A Case Of Self Defense," Says Attorney
CALHOUN PROSECUTOR SAYS CYRUS MURDER APPEARS PREMEDITATED - Husk Made Statements Implying He Planned To Kill Cyrus, Says Holmes