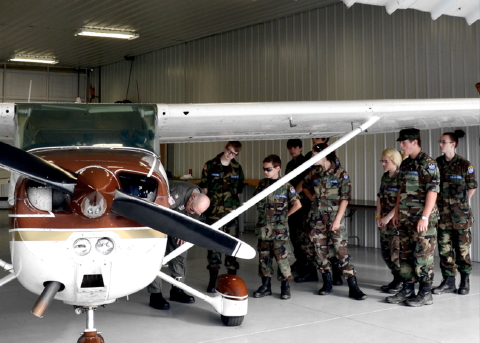 Cadets Take Tour (L-R) Commander Lew Cradock, Chris
Kirkland, Jesse Kargol, Mackenzie Seabolt, Jacob Butler,
Matthew Rush, Mitchell McKown, Erica Riggs and James Isenhart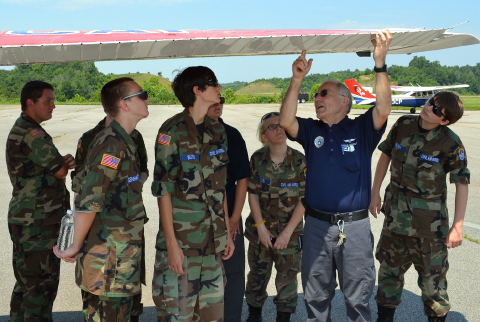 (L-R) Cadets Mitchell McKown, James Isenhart,
Jacob Butler, Erica Riggs, pilot and Matthew Rush
Information provided by Chasidy Rush
A highly recognized program for youth and older adults, a Civil Air Patrol squadron was organized in Calhoun a year ago.
The local composite squadron, with cadets ages 12-18, has engaged in a year of activities, learning and adventures. It is supervised by senior members.
They have learned to fly, lead, hike, camp, get in shape, and push themselves to new limits, with squadron members providing many hours of community service to Calhoun County.
In return for their hard work and dedication, cadets have opened exciting and one-of-a-kind opportunities in leadership, aerospace studies, engineering, travel and flight.
Local projects this year included providing help in the Calhoun County Food Drive that was held July 23rd, leading the 52nd Annual Wood Festival Parade that was held June 7th , had their 1st flight with CAP pilots in July, where they received their 1st flight certificate.
They also had a week of training and camping at Camp Dawson at Kingwood.
Commander Lew Craddock said the highly recognized nationwide program includes aero-space education and events, which has led thousands becoming part of the aero-space industry, former members becoming astronauts and many entering the Air Force Academy.
"Kids who want to fly, it's a fantastic program," Craddock says.
For more information contact Chasidy Rush 304-354-9487.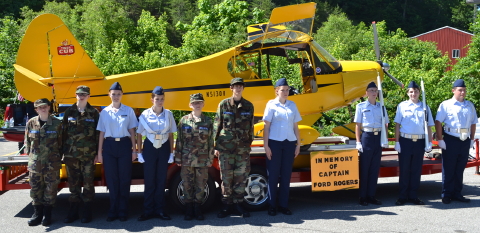 Cadets at Calhoun Wood Festival with Ford Roger's plane