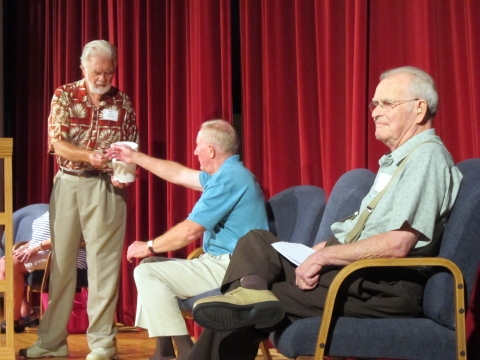 (L to R) Master of Ceremonies Loyd Wright with
Bob Bailess and Joe Kimble distribute door prizes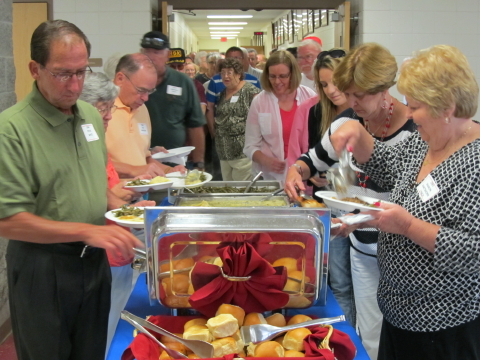 Alumni enjoy catered lunch following ceremony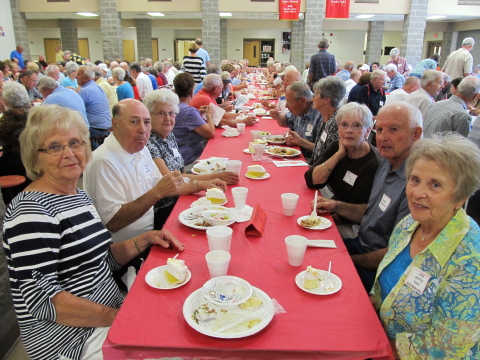 Class of 1958 (foreground) renew old acquaintances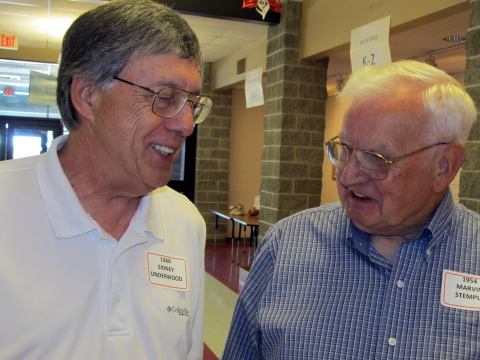 Sidney Underwood and former teacher
and alumni Marvin Stemple have a chat
By Bob Weaver
The 27th Calhoun County High School Alumni Reunion Saturday was a time for renewing old acquaintances and reliving high school memories. The event drew 300 people, many from out-of-state.
Master of ceremonies Loyd Wright (1955) introduced representatives from three honor classes.
Calhoun High graduate from the class of 2014, Courtney Lewis, was recipient of the alumni scholarship.
Joe Kimble, speaking for the class of 1954, said 43 are still living from 91 graduates in his class, recalling getting old was "like a roll of toilet paper, once you get to the end, the faster it goes."
"I'm still living because I'm afraid to kick the bucket," Kimble said, recalling a whipping given to him by his dad when he kicked a bucket and its contents on Bull River.
Kimble said the great thing about listening to old-time radio, "You could listen in 3-D."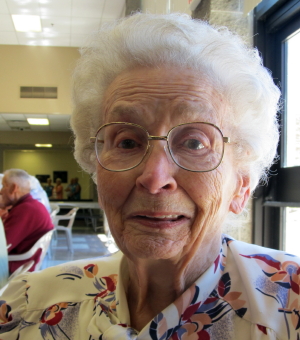 The oldest living graduate attending the event was Eileen
Hamilton Whitman from the class of 1936, 78 years ago. Whitman
has been a faithful attendee at the gathering for several years
See EILEEN HAMILTON WHITMAN GRADUATED FROM CALHOUN HIGH IN 1936 - Will Return To 27th Alumni Day
Judy Stump Bonser, speaking for the class of of 1964, the daughter of long-time Calhoun educator and principal Roy J. Stump, recalled the flavor of old Calhoun High, it's oiled floors, taking band trips, sock hops and homecomings.
"Our class members went into the world and did well with higher education and careers," she said.
Bonser said she has traveled to 52 countries.
Class of 1974 speaker Stephen L. Buck said, "We had great teachers," recalling Joe Wilt who organized the musical follies, sometimes three hour long performances. "Wilt knew how to bring the best out of students."
Buck said his classmates witnessed the first Calhoun streaker. "He went across the field buck naked. It incensed teacher Fred Barnes."
Bob Bailess, class of 1954, made the presentation of a football used by a winning Red Devil team in 1951 to the Wayne Underwood Museum. "It has seen lots of mileage in the past 63 years," Bailess said. The ball was donated by CCHS graduate Bill Richards, a world-class artist who lives in New York, and a member of Underwood's team.
See RED DEVIL FOOTBALL COMES HOME AFTER 63 YEARS - "Ball Brings Back Wonderful Memories"
A number of graduating classes held mini-reunions.