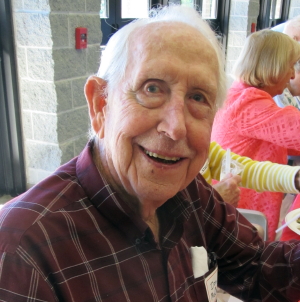 Well-known Calhoun educator Don
McCartney enjoys alumni gathering
Well-known Calhoun educator Don McCartney, 87, who suffered a stroke on May 27, made a surprise visit with his wife Ann, to the 27th CCHS Alumni Reunion.
After several weeks of hospitalization, McCartney was released and was in good form at the event, alert and telling stories.
"Don was doing what he was often doing, doctoring a cow down in the barn," when he was stricken, his wife said, likely quoting one of his favorite poems while doing the task.
Ann McCartney said he is making a remarkable recovery.
She said he received over 200 cards for his recent birthday, after it was posted on the Hur Herald.
McCartney's teaching career in one-room schools to Calhoun High School spanned over 30 years.
See PEDESTAL CALHOUN TEACHER DON MCCARTNEY - 'Students Like To Be Challenged And Inspired'