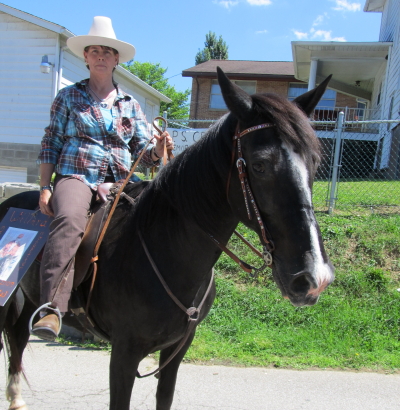 Barb Norman rides Willard Jones 34-
year-old "Shadow" in Wood Fest parade
A Well-known Calhoun man 91-year-old Willard Jones passed on, still riding his horse "Shadow" until the end of his life.
"Shadow" led the funeral party to his resting place on Leading Creek in 2009.
"Shadow" is still making an appearance at the Wood Festival parade at the ripe old-age of 34.
"It's amazing he made it out today," said rider Barb Norman, who rode the horse in Willard's funeral procession.
"Shadow" renews remembrances of the life and times of Jones, whose character left a print across the Calhoun landscape, known for his music, storytelling, faith and good natured character.
REMEMBERING: WILLARD RESTS ON HIS MOUNTAIN - Who Will Sing Those Mule-Skinner Songs?
WILLARD'S BACK IN THE SADDLE AGAIN - A Sunday Horseback Ride