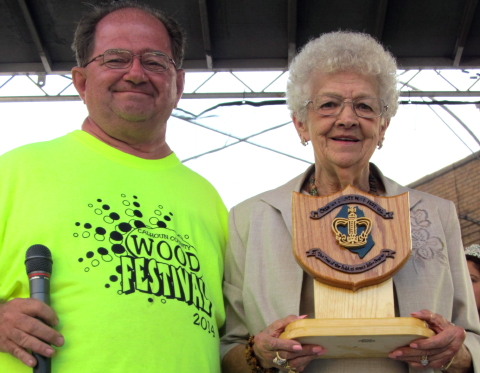 Wood Festival committee member Jim Sullivan gives Russett
resident Jackie Robinson festival's Charles Whipkey's Spirit Award
Russett resident Jackie Robinson was given the Wood Festival Spirit Award Thursday night, the Spirit Award named in honor of the late Charlie Whipkey.
Whipkey died in 2010 after battling cancer, a local florist for many years, a former Grantsville Town councilman, serving six years and was a board member of the Calhoun County Committee on Aging.
The talented artist created the design for the official Wood Festival emblem when he was a teen, used by the Wood Festival for over 40 years.
"Where did they go, all those years," Robinson said on her 80th birthday, while busying herself in her well-kept home surrounded by flora and fauna.
"I've always stayed busy," she said, over the years working at the Calhoun Chronicle, serving on the school board and many other civic activities.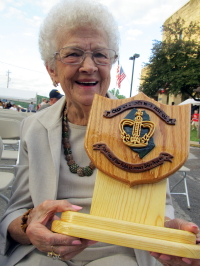 Jackie recalled her early memories of the first Wood Festivals over 50 years ago
Jackie, more often than not, laments of the stalwart community members who once graced the landscaped, having gone on.
"I really miss them, their grace, ideas and humor," many who once met daily for lunch in Grantsville, calling themselves the "Grantsville Silver Girls."
"We didn't like to be called golden," she said, "Sounded too old."
"There are few days that I don't think of these woman, who gave much to me," she concluded.