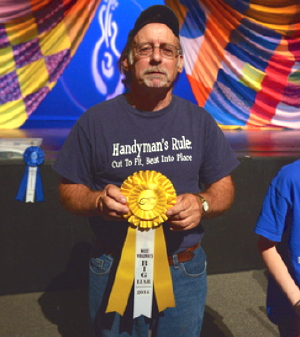 Photo courtesy of WV Division of Culture & History

Creston resident Gary Buchanan is among West Virginia's most accomplished "liars" at Vandalia Gathering

Creston resident Gary Buchanan has continued his quest to become West Virginia's most accomplished liars, but fell short at this year's 2014 Vandalia Gathering, coming in third.

Buchanan has gone to Charleston for several years to tell a few lies, a city that should be familiar with the well-known practice.

The Vandalia tall-tale contest draws large crowds, and the winner receives a Golden Shovel. You can imagine why.

Buchanan keeps edging toward the top prize, once coming in second.

Actually the liar's contest requires unique and creative storytelling talent, and Buchanan falls in that category. Buchanan's has returned to his Calhoun farm to hone his 'lying' skills for another try.

Beyond being Calhoun's former 911/OES Director, perhaps his biggest contribution to the health and well-being of regional residents was the discovery of bug infested breakfast bars he picked-up in Grantsville on his way to work for a "healthy" snack.

And that's no lie.

His speaking skills did improve slightly after eating some of the protein rich bugs on the breakfast bars.

See LOCAL MAN FINDS CRITTERS ON QUAKER'S BREAKFAST BAR

Other regional residents receiving Vandalia recognition:

- John Morris, Ivydale, Sr. Old Time Fiddler

- David O'Dell, Glenville, Old-Time Dulcimer

- David O'Dell, Glenville, Old-Time Banjo

- Issac Putnam, Looneville (Under 15) Youth Flat-Top Guitar

The annual Vandalia Gathering is a free celebration of the traditional arts, music, dance, stories, crafts and foods of West Virginia.

The Culture Center and State Capitol Complex grounds play host to this expanding family-style gathering each year on Memorial Day weekend.

The unique blending of ethnic and cultural heritage combines an atmosphere as comfortable as a family reunion with the excitement of a state fair.