A former Calhoun woman celebrated her 100th birthday on September 18, 2002. Ola Carpenter Hill of Ruth (South Charleston) enjoyed a birthday party with her family and friends, receiving congratulations from President Bush and Governor Wise, and lots of other famous folk.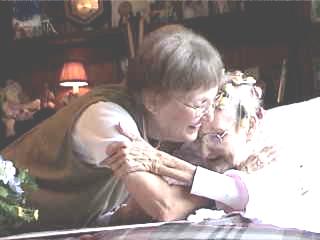 Her niece Edna Duskey Kingsbury of Grantsville spent the day with her "last living aunt."
Born in the backwoods near Husk Ridge, she was the daughter of the late Lewis and Emma Husk Carpenter. She grew up on Board Fork, a narrow hollow filled with early settlers, the Husks and the Carpenters. Board Fork is a narrow valley off Rowels Run, never improved by the building of a "modern" road.
Ola's husband, Elmer Hill, died many years ago. "Ola left about 1921 to teach school in Kanawha County. She was so homesick, she started to come back many times," recalled Edna Kingsbury. Her two sisters, Violet Carpenter and Lena Duskey are deceased.
Ola landed in the small village of Ruth where she started teaching the one-room school. She said the school did not have a dictionary, and she organized a pie social to buy one. She and her husband operated a country store for many years, and is the oldest living member of the Ruth Community Church.
Ola Hill, still alert, recalled her early life in Calhoun during the birthday party, and wants to come back and visit the county "come spring."