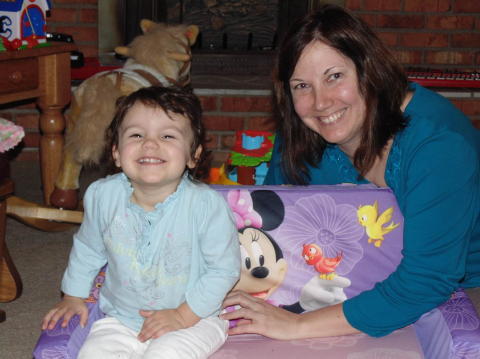 "Together with our partners, we will build strong foundations for parenting and school readiness and be a powerful catalyst in helping children achieve a lifetime of learning." - Save-the-Children
Calhoun's early education and elementary students received a gift this week from Tom's Shoes, a company that donated hundreds of shoes to fit all the students through the Save-the-Children program.
Save-the-Children has also donated 5,000 books to young Calhoun students.
Arnoldsburg Elementary is one of a number of West Virginia schools participating in the Save-the-Children program, one of the highest ranked international non-government organizations dedicated to helping children achieve a lifetime of learning.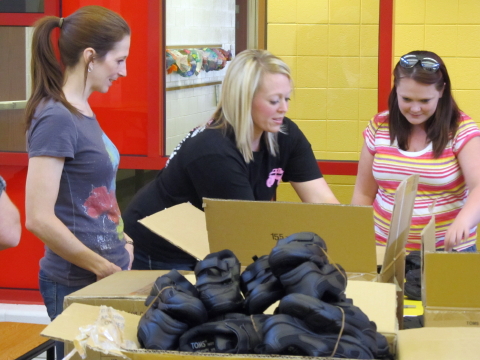 Arnoldsburg volunteers help with project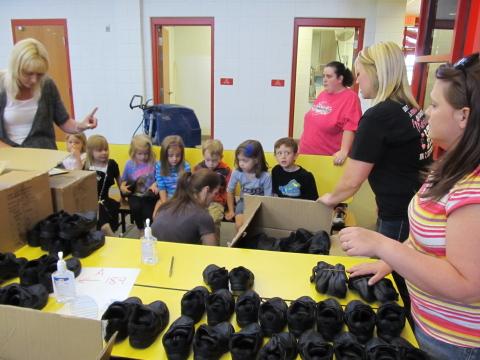 Sneakers are fitted for each
student at Arnoldsburg Elementary
Teacher Charles Thomas and Arnoldsburg principal
Jeannie Bennett sort through 5,000 books
Arnoldsburg principal Jeannie Bennett said, "Although Pleasant Hill Elementary is not linked to Save-the-Children, they too were recipients of shoes and books."
Arnoldsburg Elementary, through Save-the-Children and the 21st Century Heads-Up program, is offering an after-school program that promotes literacy, healthy choices, math and fun activities.
Tom's Shoes is a company that gives away a free pair of shoes every time a customer purchases shoes, and promotes a healthy lifestyle.
Program coordinator for Save-the-Children Charles Thomas and direct service provider Suzanne Allen said the program is one of several utilized at Arnoldsburg Elementary to improve the chances of Calhoun kids getting a better education.
Save-the-Children serves through home visits, parent-educator groups, child play groups and storybook hours, with other outreach. "We have been fortunate at Arnoldsburg to have lots of parental involvement, many who came out to help with the Save-the-Children project," said principal Wade.