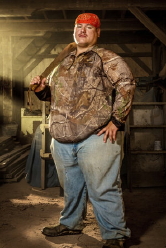 Jake "Buck" Lowe of Wirt County is the newest addition to Appalachian Investigators of Mysterious Sightings (AIMS), possessing a youthful energy and a quick wit.

He is one of the mountain men stars on Destination America's "Mountain Monsters" series, returning for a second season.

"This rookie might have a weak stomach, but it's his unflinching desire to unravel the mysteries hidden deep within the mountain hollers of Appalachia that makes him essential," says the producers.

Calhoun's Millard "Turtle Man" Nichols has appeared in the reality TV show.

See also CALHOUN'S "TURTLE MAN" APPEARING IN TV REALITY SHOW - "Mountain Monsters" Seeking Kentucky Monster

Charleston Gazette reporter Rick Steelhammer said they search for things that scream, roar, howl, grunt, screech and sometimes kill in the Appalachian night has been a monstrous success for the six West Virginia-born hunters and trappers who form the cast of Destination America's "Mountain Monsters" series, now back for a second season.

By blending their search of the dark side of Appalachian folklore for critters that may be more than mere legend with high-tech gadgetry, inventive traps, and down-home camaraderie and humor, the "Mountain Monsters" Mountain State cast struck a chord with viewers across America, wrote Steelhammer.

Last year's six-episode debut season turned out to be the best series ever among all key demographics for Destination America.