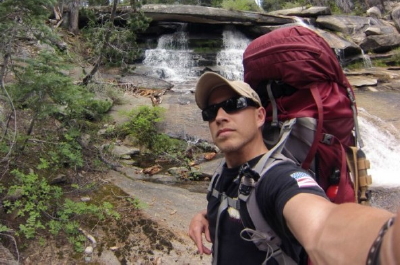 A former Calhoun man, and graduate of Calhoun High School in 1997 and United States Marine Corp Veteran of Operation Enduring & Iraqi Freedom, is embarking on a 2,650 mile walking journey from the Mexican to Canadian border on the Pacific Coast Trial.
Brice Weaver, AKA Honey Badger, is a current Human Biology Student at San Diego State University and business owner of Survival Oriented Solutions, will begin his walk on May 24.
He is walking to raise money and awareness for The Fisher House Foundation and also the Iraq and Afghanistan Veteran's of America, his goal is to raise $8,000.
Weaver is reaching out to his hometown family, friends, former teachers, local businesses and churches, asking donors to donate a penny-per-mile or $26,50.
To donate see www.gofundme.com
Weaver said, "This spectacular trail spans the western United States from the Mexico border in San Diego to the Canada border in Washington. Step by step this wondrous trail will reveal its magnificent beauty, from the lively desert floor to the glaciated mountain passes of the Sierra Nevada and the volcanic peaks in the Cascades that reach for the clouds."
American naturalist and author John Muir once said, "Climb the mountains and get their good tidings. Nature's peace will flow into you as sunshine flows into trees. The winds will blow their own freshness into you, and the storms their energy, while cares will drop away from you like the leaves of Autumn."
"My goal is to share this adventure with each and everyone of you while also raising awareness and funds for veterans and their families who could use our support," Weaver said. "Being an Enduring Freedom and Iraqi Freedom veteran myself, I feel that it is important to give back to my fellow brothers and sisters who have given so much."
Sixty percent of every donation will automatically go to the Fisher House Foundation and Iraq and Afghanistan Veterans of America.
Visit the Fisher House Foundation website at www.fisherhouse.org and the Iraq and Afghanistan Veterans of America at iava.org
Join Weaver's Facebook group at facebook.com/groups