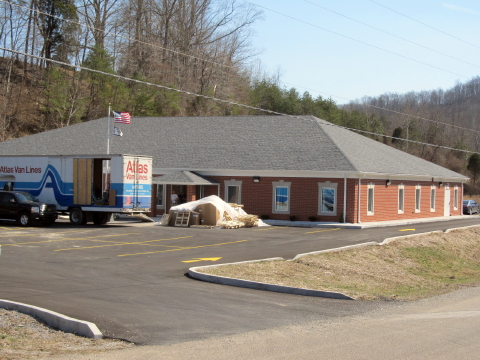 By Bob Weaver
Calhoun's WV Department of Health And Human Resources has moved from Main Street, Grantsville, to a new state-of-the-art $1.3 million dollar facility at the Calhoun Industrial Park off State Rt. 5.
The new 10,000 square foot facility includes 60 parking spaces. The space is laid out with about 10 private offices, space for 34 workstations, 10 private interview rooms, a central file storage area, plus conference rooms and storage areas.
It features state-of-the-art security to protect the health and welfare of our customers and workers and for in-house worker training and customer privacy, according to Allison C. Adler, DHHR Communications Director.
Additional costs associated with the project, site acquisition $45,000 and architectural costs of $10,000.
The monthly lease for the building for ten years is $14,583.33 for a 10 year term, the contractor Jeffery Kiess and Sharon Kiess.
Adler said, "The DHHR has made similar upgrades to offices in several counties over the past 15+ years, using a standard layout that makes the functionality similar in each office. This standardized floor plan greatly improves worker safety and work flow efficiencies."
DHHR services to be delivered at the new location include the services we currently deliver, including: Economic Services (SNAP benefits, children/adult Medicaid), WV Works (cash assistance program), Child/Adult Protective Services, Child Support, and Day Care.
The hours of operation are Monday through Friday 8:30 am to 5:00 pm, excluding holidays.
"The new space will afford easier parking and a bright, clean environment to conduct business," Adler concluded.