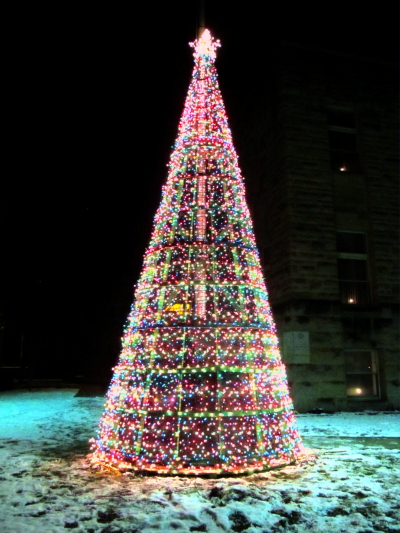 The musical Christmas tree is now lit on the Calhoun courthouse lawn with over 11,500 mini-light bulbs.
While the tree remains lit, a number of music and motion light shows are scheduled for the holiday season, according to creator Jim Sullivan.
Sullivan said, "In 1991 I was asked to help with a Singing Christmas Tree at the North Parkersburg Baptist Church, with a light system that would control multiple rows of colored lights to be independently controlled and make patterns and color mixes while the 100 person choir sung."
Over the years the tree evolved into being an independent sound and light event.
Sullivan said the church decided not to use the tree this year, and he thought it could be enjoyed by Calhoun citizens.
"I contacted the Grantsville Volunteer Fire Department, namely Craig Gherke and Steve Heath, to see if they were interested in helping me make this happen. Pleasant Hill United Methodist Church and Furr's Towing also helped," Sullivan said.
Planned shows will be December 6 throughout Christmas Day See schedule and Dec. 13 during Christmas Parade
Any group wanting a special viewing of the tree show contact Jim Sullivan at 304-531-0084. To offset the cost of lumber and lights, there will be a donation box during the live shows. Any excess would go to the upkeep of Wayne Underwood Field Park.