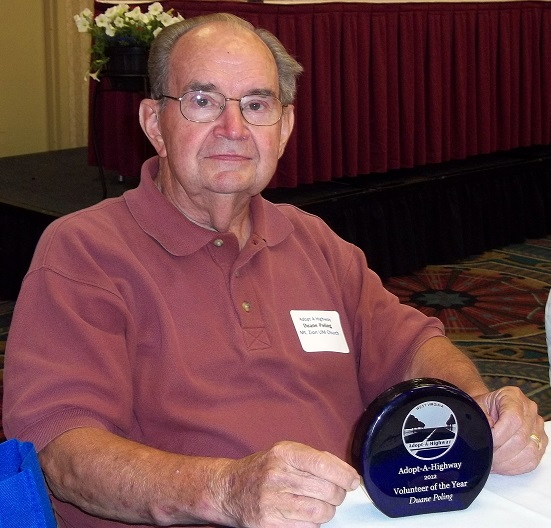 The West Virginia Division of Highways and the West Virginia Department of Environmental Protection had its annual Adopt-A-Highway Program Annual Awards Day at Lakeview Country Club in Morgantown on Saturday, August 3rd, with approximately 400 in attendance.
After recognizing several community and church groups for their service, Duane Poling of Calhoun County was recognized and presented West Virginia's "Volunteer of the Year" award.
As a part of the award's presentation, Duane's numerous volunteer activities and services through the years were recited. He has served as a Cub Scout Master and Boy Scout Assistant Scout Master, as a member of the Board of Directors of Calhoun Homes, Inc. (a low-income housing facility), as a member of the Calhoun County Planning Commission, and has been a member of the Masonic Lodge for 56 years.
He was one of three people who formed and served as the original Directors of the Mt. Zion Public Service District, which now provides water service to several regions of Calhoun County beyond the Mt. Zion community. He was Chairman of the Calhoun County Park Board of Directors for eleven years, and has continued to be in charge of the Park's facilities bookings and reservations, and has spent numerous hours in the construction of the park's "Heritage Village."
In his church, Mt. Zion United Methodist, Duane has spent over forty years as a teacher (first of the young adults class and currently of the adults class), and as the Sunday School Superintendent and Song-Leader. He also serves as the church's Adopt-A-Highway chairman and as the caretaker and treasurer of the church's two cemeteries.
Duane was nominated for the award by members of his church, and had no idea he was being considered for the award until his name was announced at the ceremony.
Nearly 14,000 West Virginians participate in the "Make It Shine" and "Adopt-A-Highway" programs statewide, and removed more than 450 tons and trash and debris from West Virginia's roads and landscape during this past spring's clean-up campaign.
Duane noted that he was humbled and honored to be chosen for the award with so many wonderful people participating in the State's volunteer programs.