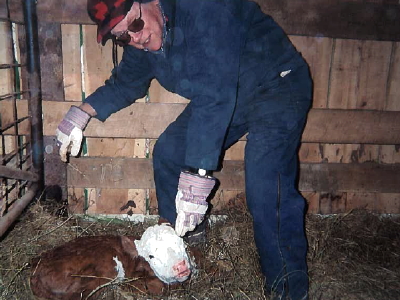 Joe Cain with a new calf in the calving barn
Throughout the year the Little Kanawha Conservation District offers the Century Farm Award which is open to the counties of Wood, Wirt, Ritchie, Roane, and Calhoun.
In order to be awarded the Century Farm Award the property must be kept in the same family and in continuous operation for 100 years or more.
A family member must live on the farm or be an integral part of the day-to-day operations of the farm enterprise. The farm must consist of at least 10 acres of the original holdings and gross more than $1,000 annually from farm products.
Dr. Joseph Cain from Big Bend, Calhoun County is presented the award. Dr. Cain currently owns 1475 acres, with 200 head of cattle that he tends to 365 days a year; he annually sells out 100 head.
Dr. Cain graduated from Calhoun County High School in 1945, then attended Glenville State College for one year before transferring to Potomac State College. In 1951 he graduated from West Virginia University with a degree in Agriculture.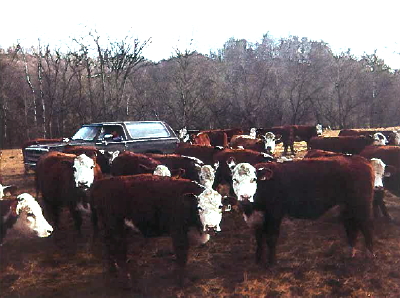 Joe Cain with his herd of cows ready to be moved for calving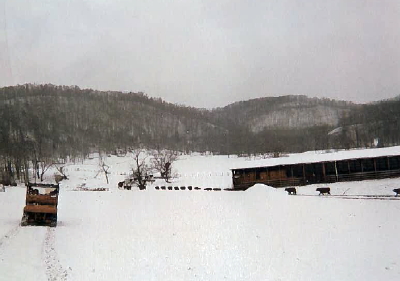 Cattle drive in January at the start of calving season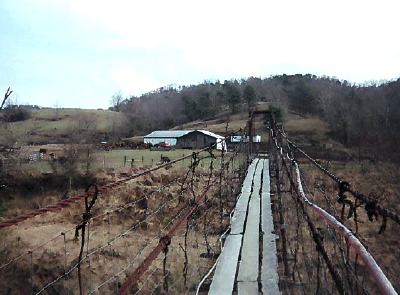 Swinging bridge crossing the Little Kanawha River, Joe Cain
walks across multiple times a day to check his cows/calving
Dr. Cain was called for active duty in 1952, when he returned he completed his final qualifications for veterinary school. He was accepted to Ohio State University and graduated as a licensed veterinarian in 1958.
In 1958 he worked for the United States Government on the eradication of tuberculosis in cattle. Dr. Cain served as past president of the local Farm Bureau, past president of Calhoun General Hospital Board. Stock yard veterinarian in Gassaway 1960-1970.
Dr. Cain married Dorcas Haught in 1953. Dorcas taught school while Dr. Cain was in school. Dr. Cain and his late wife have three children Daniel a DMV, Jane an educator, and youngest son Richard a practicing M.D.
Dr. Cain shows great care for his cattle as he goes across an aged swinging bridge every day to tend to them. Every year Dr. Cain also does a cattle drive, where he moves his cattle over three miles from one of his farms, across the Little Kanawha River and down the river to the calving barn in which again, he will have over 120 calves each spring.
The Little Kanawha Conservation District is presenting Dr. Joe Cain and his family with the Century Farm Award.
If you happen to live on or know someone, that may be interested in the Century Farm award program please contact the: Little Kanawha Conservation District, 91 Boyles Lane, Parkersburg, WV 26104, 304-422-9088.
Dr. Cain received special recognition last month:
See related story BIG BEND'S JOE CAIN 2013 WV FARMING HERITAGE AWARD