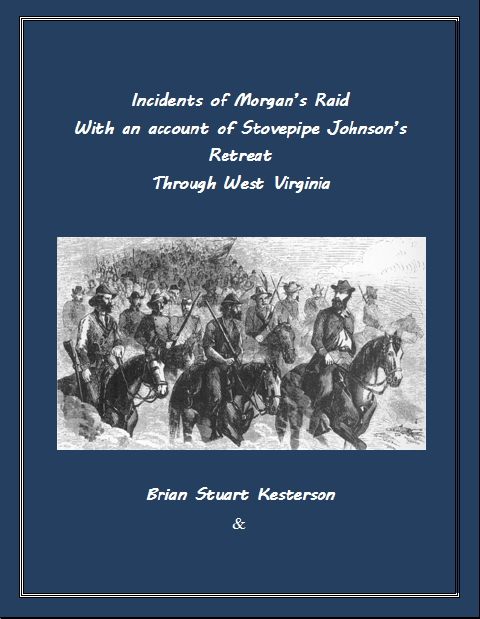 An award winning West Virginia Civil War historian, Brian Stuart Kesterson has just published a new, limited edition book, Incidents of Morgan's Raid with an Account of Stovepipe Johnson's Retreat Through West Virginia. Some of the accounts cover incidents related to Calhoun and the region.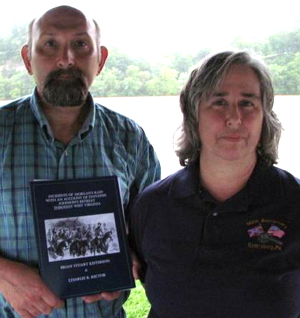 Author Brian Stuart Kesterson and photographer Donna Setler
Kesterson noted that, "Donna Setler a Grafton native, did a large part of the photography for this book. Her assistance has been invaluable, and her ability has been a great asset to me in this project.
We traveled over roads and lanes that Col. Johnson and his three-hundred retreating Confederate cavalrymen traveled over one hundred fifty years ago. Donna's photographs are excellent and she was a real trooped considering we traveled the entire retreat route across the state no fewer than three times."
The book focuses on the ill-fated raid of General John Hunt Morgan and Colonel Adam Rankin "Stovepipe" Johnson's retreat through West Virginia. Kesterson and Setler trekked over many of the same roads that Johnson and his men had retreated over.
"Some of these roads were little better than wagon paths and they have changed very little since the time of the Civil War. About 90% of Johnson's original retreat route still exists, which is amazing to think about since he and his men retreated over eight counties in West Virginia and two counties in Virginia," Kesterson said.
Kesterson explained that the remoteness of the retreat route largely factored in the preservation of a large part of the route. "Many of these roads and lanes rest on the original roadbeds and trails that were in use during the Civil War or before. The remote areas that Johnson and his cavalrymen traveled ensured that little if any contact was made with Federal forces in the rugged mountains of West Virginia. The two areas that they did have to avoid were the areas around Sutton in Braxton County and Williamsburg in Greenbrier County, since contingents of Federal troops were known to be in that vicinity."
Kesterson and Setler covered the counties of Wood, Wirt, Calhoun, Gilmer, Braxton, Nicholas, Greenbrier and Monroe in West Virginia. They also covered the counties of Giles and Pulaski in Virginia where the retreat route ended at Dublin Depot. Kesterson stated, "Donna's photographs add a relevance to the driving tour that appears in the book and her keen sense of perspective and format tells a story all by itself.
This is the first time that anyone has ever tried to reestablish Johnson's exact retreat route let alone published a book about it. Many of today's books follow General Morgan and his famous raid, but Johnson's part is delegated to nothing more than a minor footnote in history books."
"This book gives new insight into a little studied or understood aspect of one of West Virginia's less known stories of the Civil War era. Newspapers and period accounts of the time have little if anything to say about Johnson and his men on their retreat across the state.
This offering hopes to clarify some of the less understood or known incidents along the retreat route. The book is filled with never before published firsthand accounts and rare period photographs coupled with Setler's modern driving tour photos." according to Kesterson.
Aaron Crites, assistant professor of history at West Virginia University at Parkersburg noted that, "Johnson's retreat has been given little if any study in the grand scheme of the Civil War due to the Gettysburg and the Vicksburg campaigns not to mention the exploits of Morgan and his eventual capture and daring prison escape from the Ohio Penitentiary.
"Stovepipe" Johnson's Retreat was effectively one of these meager stories that were a footnote in the papers of the day, but thanks to the diligence of Kesterson and his never ending love for our local stories, it has been brought to the light of day.
Kesterson has edited and developed a strong piece of history and a driving tour that will help the reader follow the exploits of this forgotten Confederate Colonel. Scholars of Morgan's Raid and the Battle of Bufington Island will definitely appreciate the accounts in this work, but the average reader will appreciate the driving tour aspect of the book as it gives relevance to all who are willing to turn its pages, read and be enlightened." Only 500 copies of this book have been printed.
An autographed, limited edition can be ordered for $27.32 by sending a check or money order to: Brian S. Kesterson, P.O. Box 81, Washington, West Virginia 26181