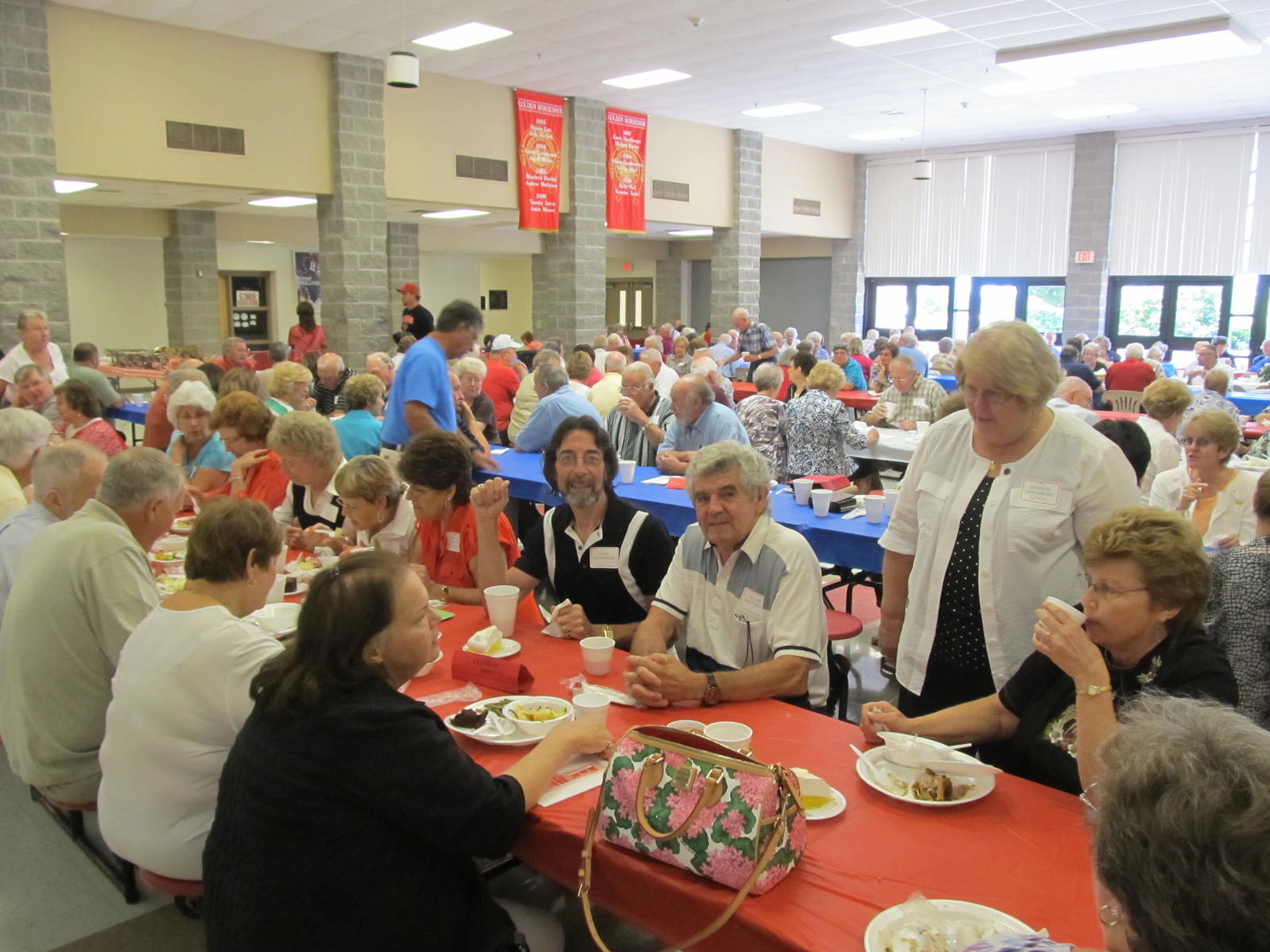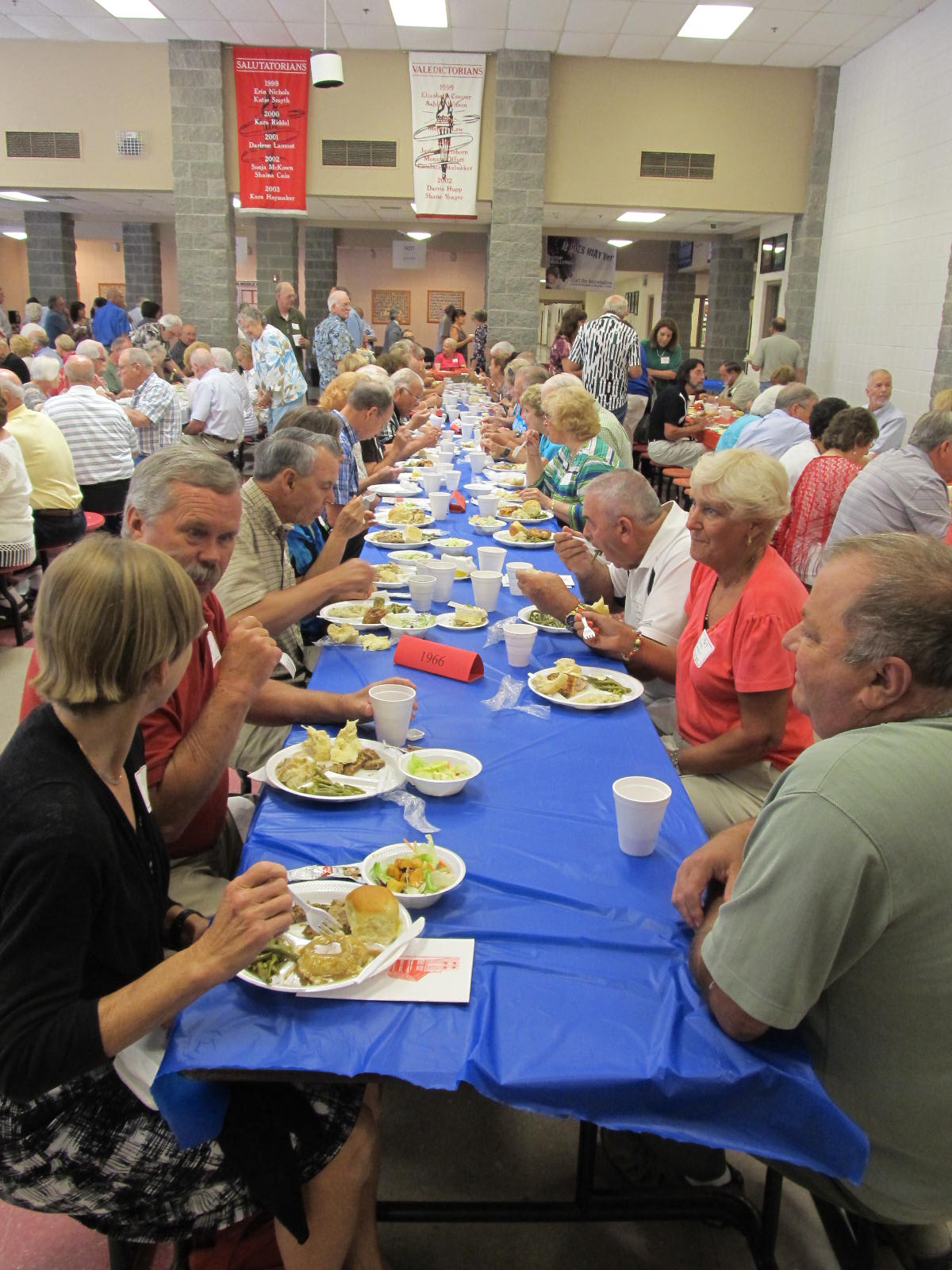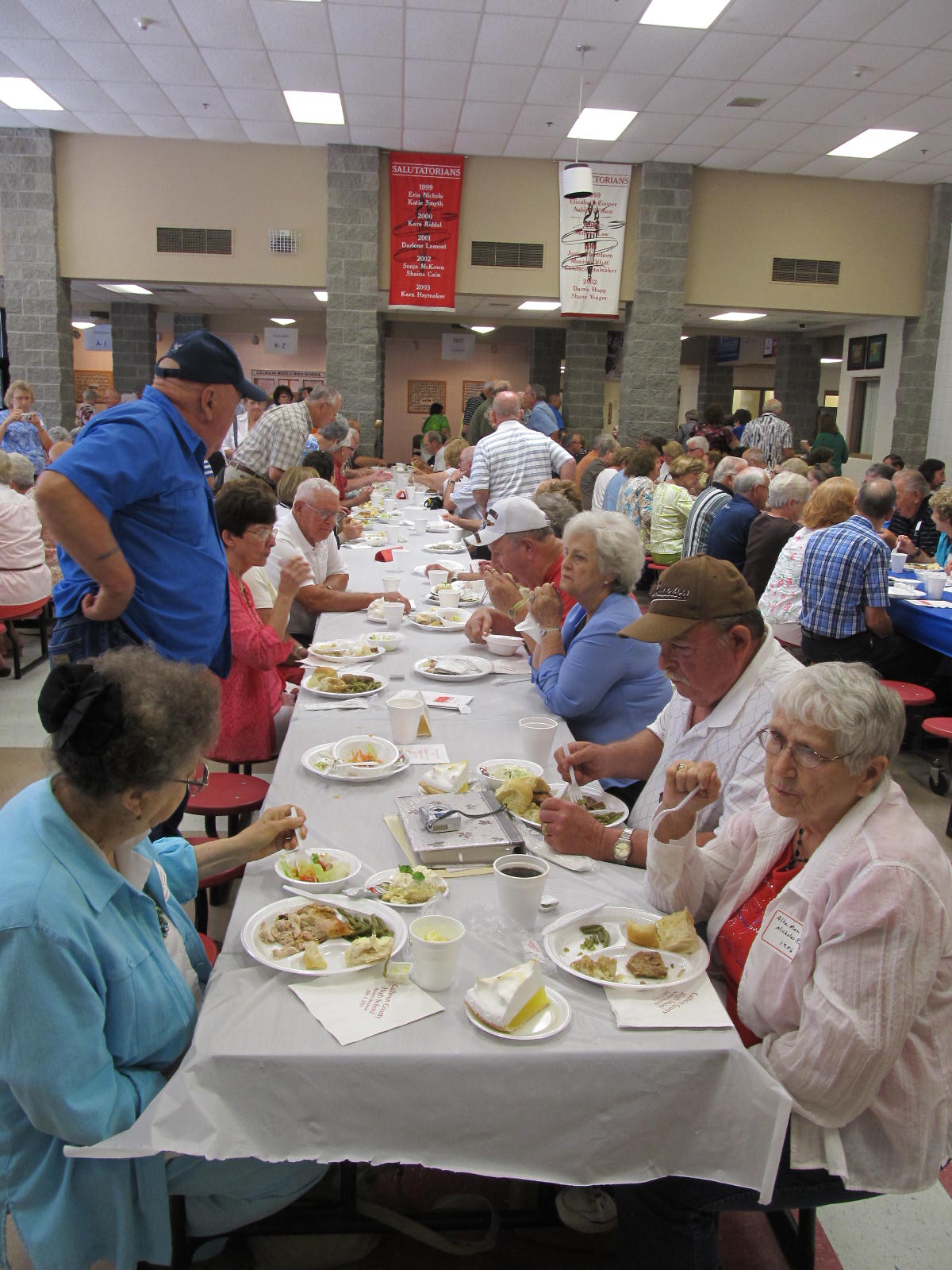 Over 250 alumni of CCHS enjoy Alumni Day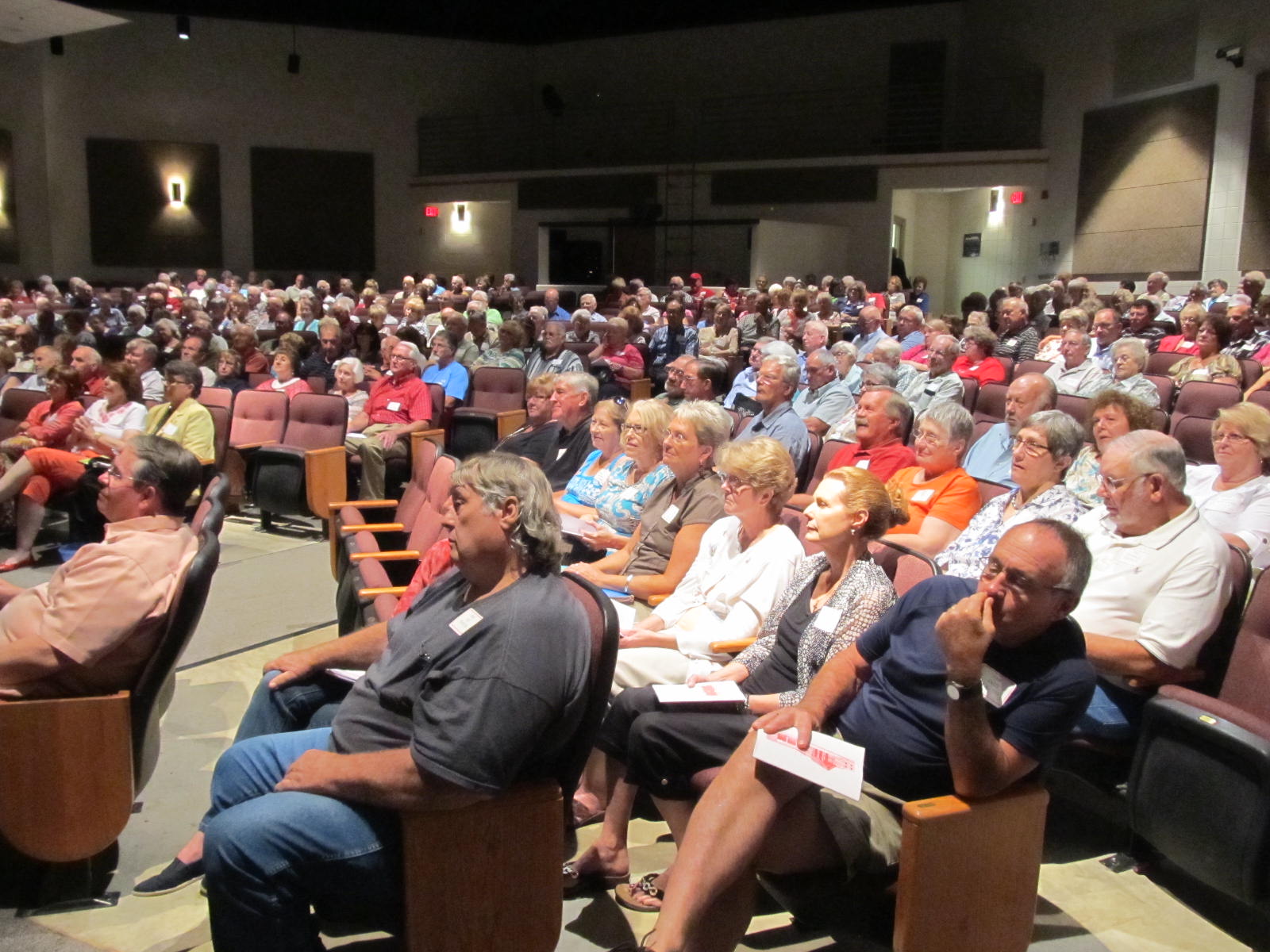 Crowd hears former grads recall school day memories
By Bob Weaver
About 250 alumni of Calhoun County High School recalled their school days at the 00st gathering at Mt. Zion, welcomed Alumni president Loyd Wright (1955).
The alumni are examples of thousands of graduates who have gone into the greater world to contribute and have a successful life for their families.
Calhoun Superintendent of Schools Roger Propst spoke to the alumni about poor academic outcomes being experienced by county schools under No Child Left Behind, saying the schools have not been targeted by the state for special help, that performance levels are rising.
Propst said not being designated as a targeted school indicates improvements.
"We're coming out of the hole," he said, "but we're still below West Virginia averages," discussing the loss of long-time teachers.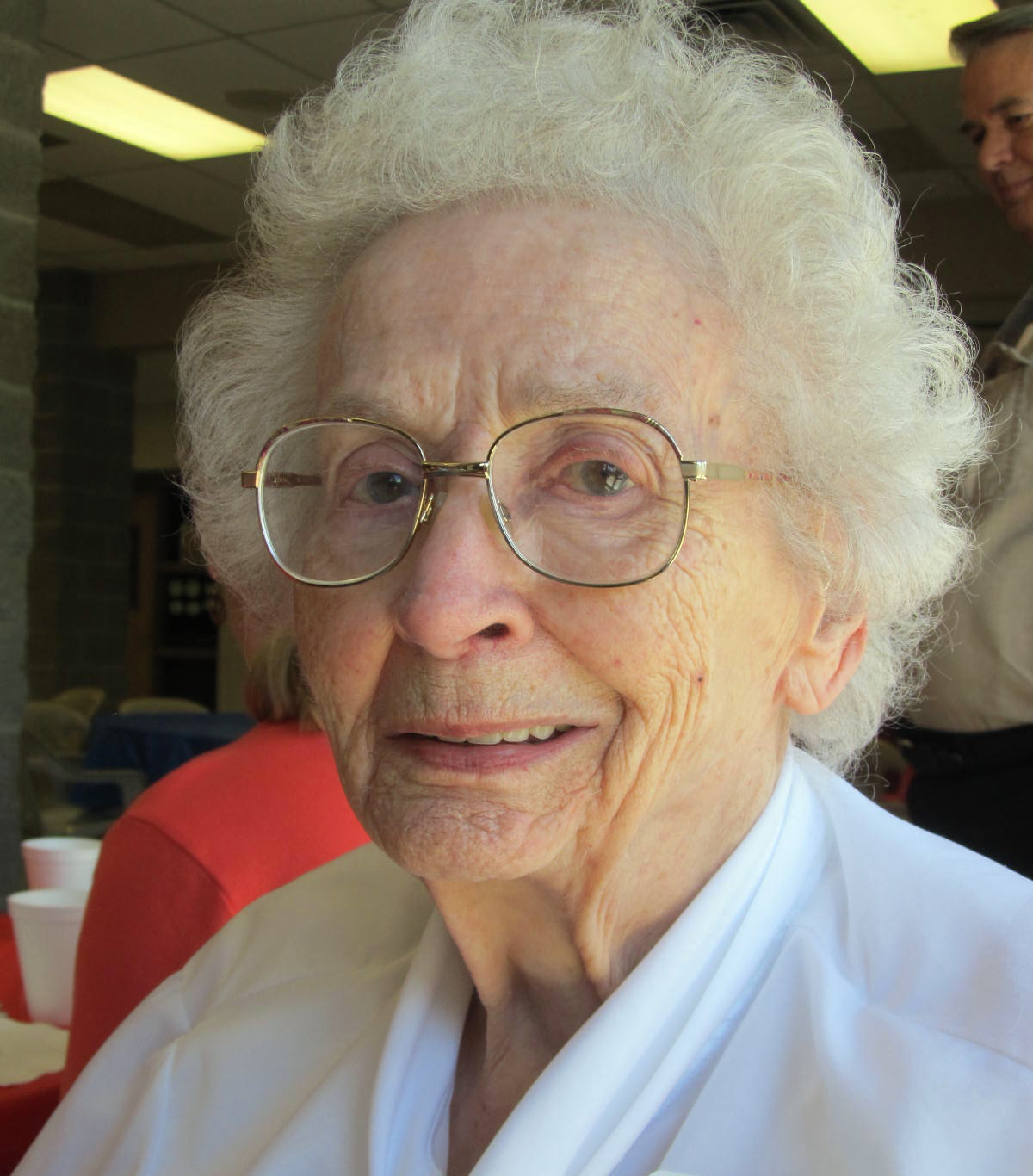 The oldest alumni attending was
1936 grad Eileen Hamilton Huffman
The annual alumni scholarship was awarded to Belinda Summers, class of 2013.
The alumni heard three speakers representing the classes of 1943, 1953 and 1963.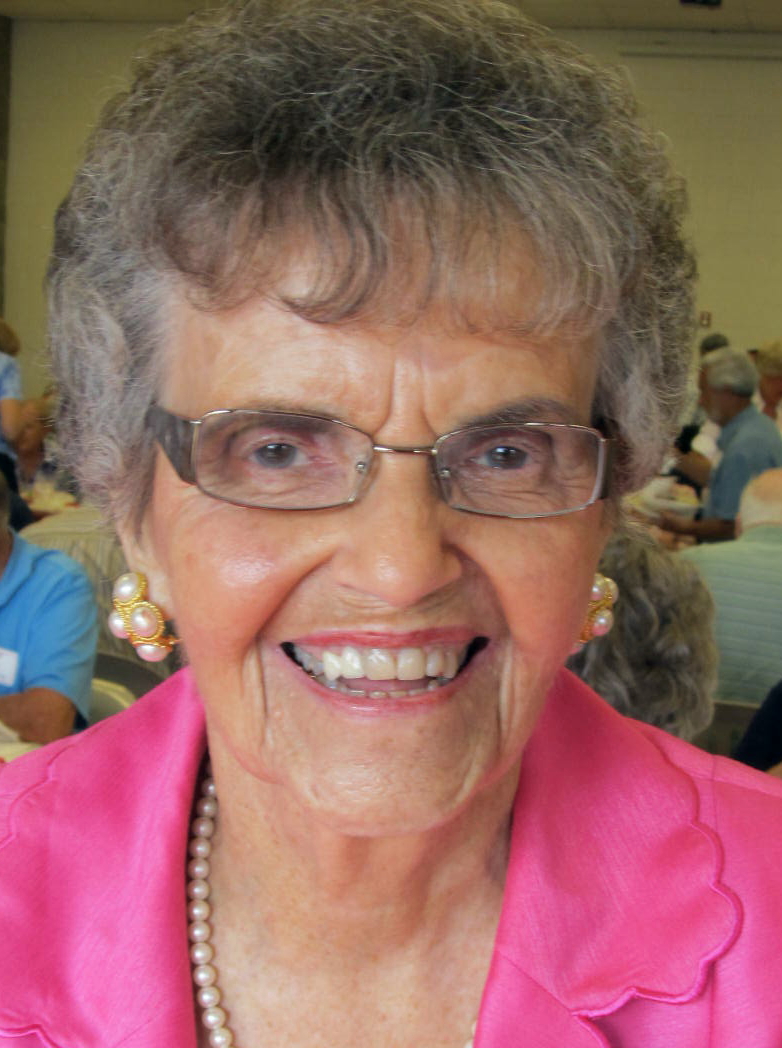 "I marvel at the little farm on which I was born in Calhoun has allowed me to have a wonderful life," said long-time teacher Murlene Hamrick Morris (left), 88, who spoke for the graduating class of 1943.
The Calhoun woman, now a resident of Lakeland, Florida, began her teaching career at six one-room schools in the county, mostly in Washington District.
The active and alert woman said,"I'm a living miracle with at least a dozen major surgeries."
Ms. Morris recalled Calhoun High School days following the burning of the school, "We went all over Grantsville to classes and then walked back to the burned out school to catch the bus."
She was the daughter of John K. and Zana Hamrick, her father also being a teacher.
Alumni said that Ms. Morris was an inspiration for aging, still active in her church and community.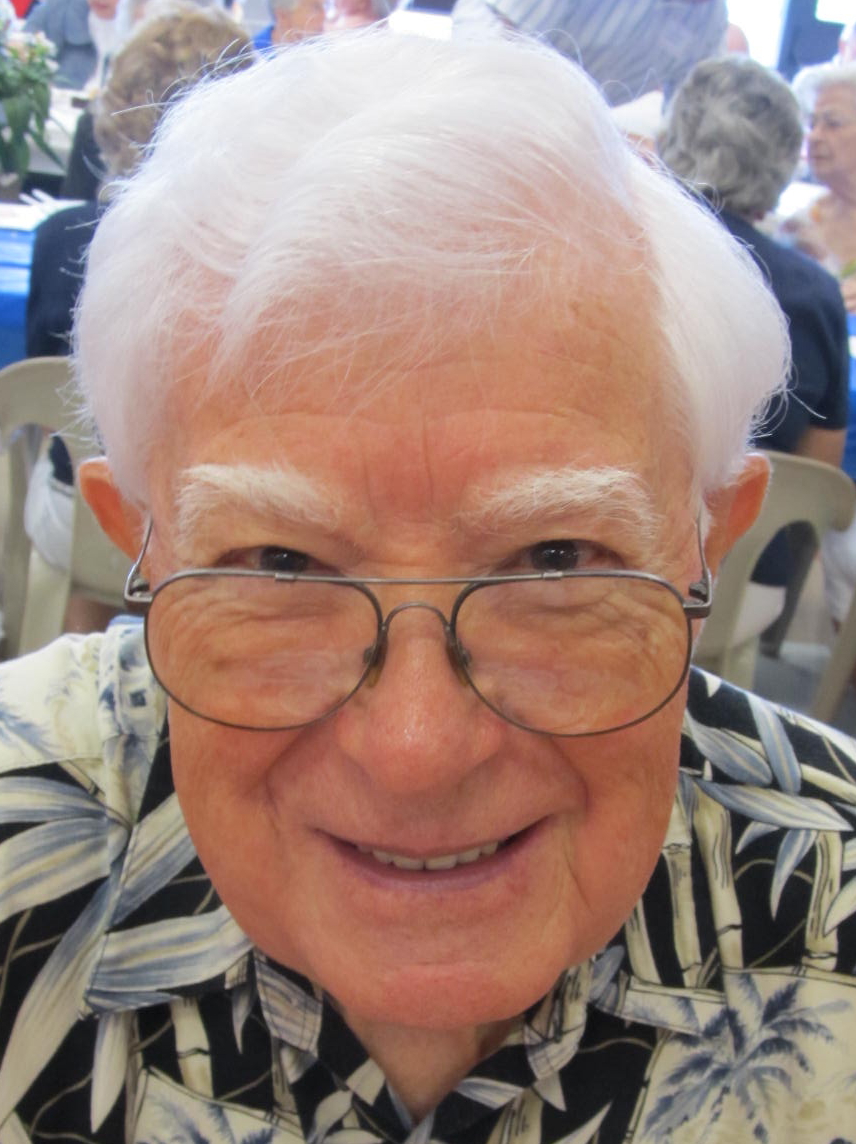 Perry Carl Deweese (left) of Diamond,Ohio spoke for the class of 1953 saying, "We're now the senior class of the AARP, recalling riding a school bus almost 30 miles to get to high school.
He recalled one of his fellow football players, Robert "Bob" Huffman, who is remembered as the waterboy with "the toe," being called into Coach Underwood's games to kick field goals. Huffman received national recognition for his special talent.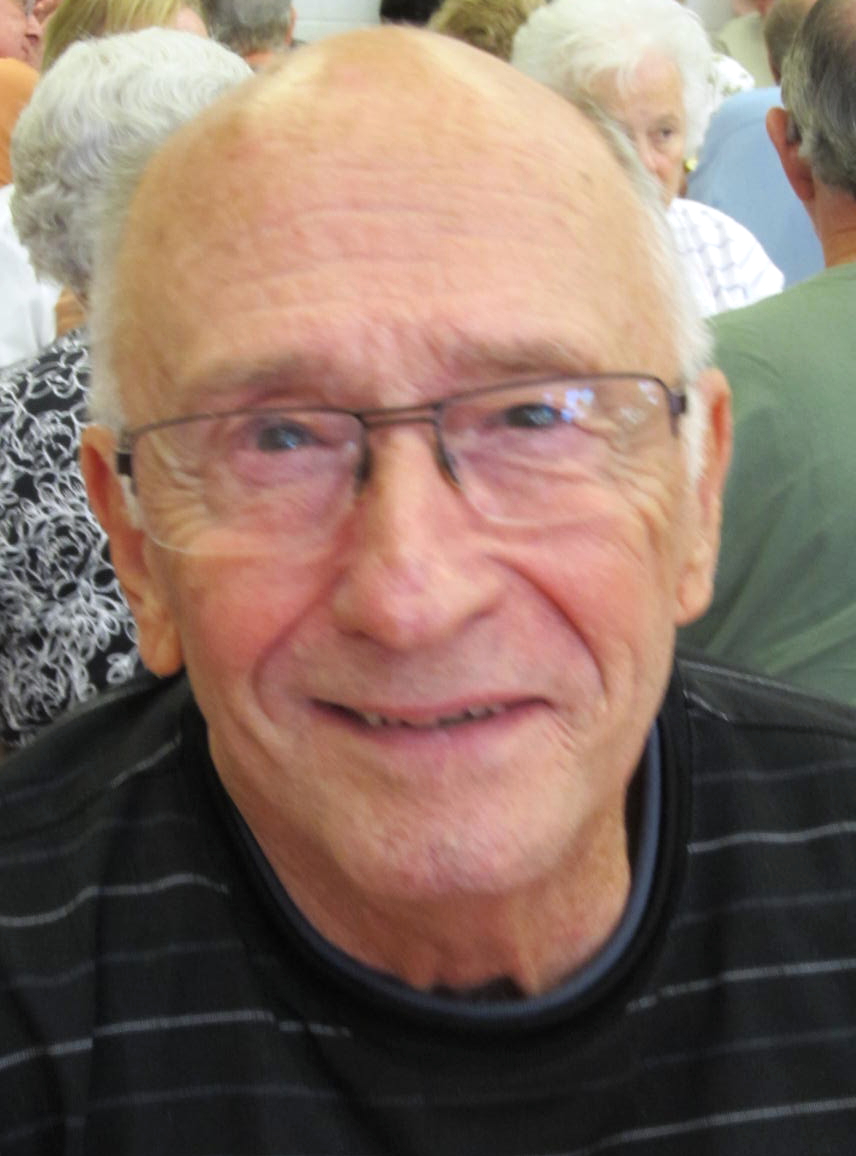 Bob "The Toe" Bob Huffman (left) attended alumni event
Deweese said he joined the caravan of Calhoun grads to move to Ohio, where he was constantly running into other Calhoun natives.
He recalled spending a little too much time in an Akron bar, and mistakenly wandering into the ladies room by mistake. Inside the toilet was a woman who was freshening herself, who looked at the embarrassed male intruder and exclaimed, "You're from Calhoun. I graduated with you."
Deweese said his recollection of old CCHS is summarized by calling it, "The School of Common Sense. Most all of my class went on to have successful lives."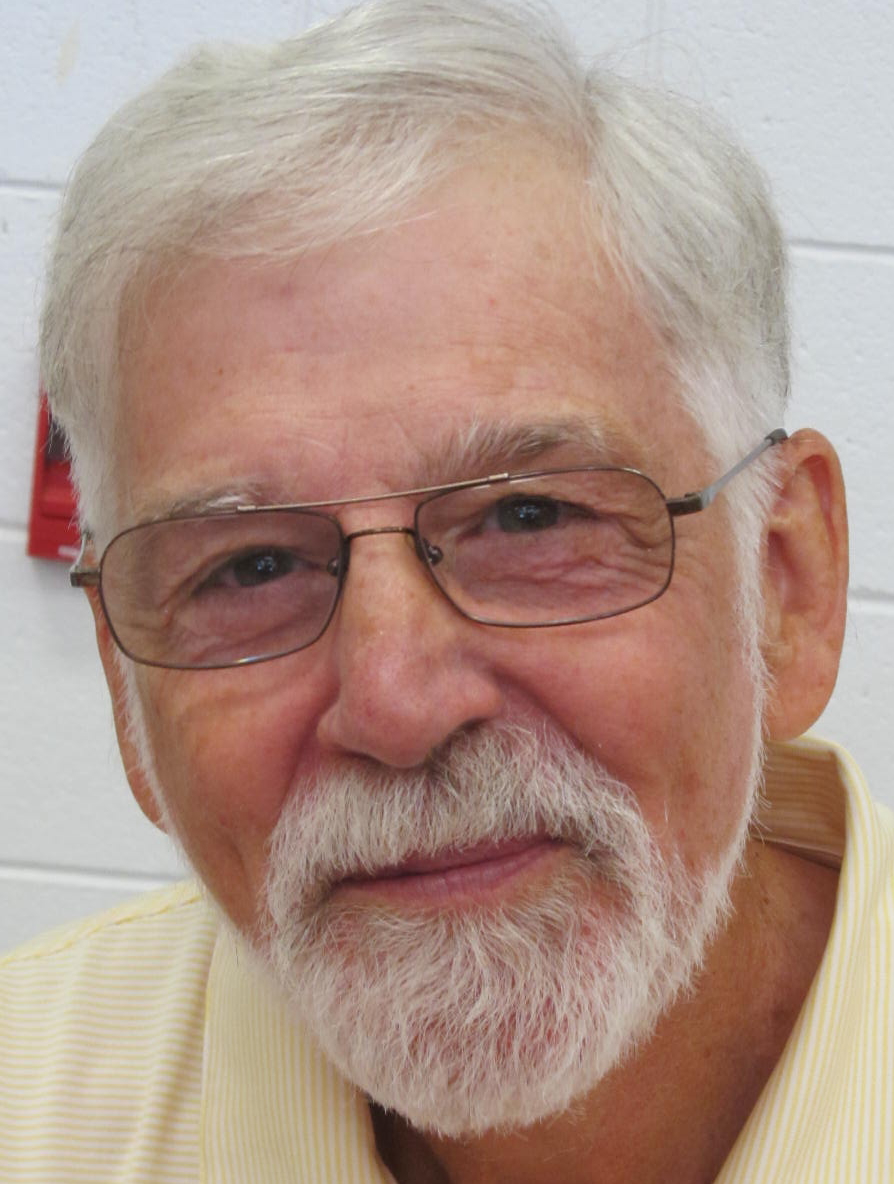 Representing the class of 1963, Bill Downs (left) of Huntington admitted this was his first alumni event, saying he was forewarned by his brother that it could be, "The worst experience you'll ever have."
"A great accomplishment of attending CCHS was meeting my wife those 50 years ago," acknowledging Mary Whipkey Downs.
Downs recalled his teachers. "I can't walk in the woods and see the flowers without thinking about biology teacher Fred Barnes...who made every student feel special."
"Chemistry teacher Bernard McKown actually trusted us boys to be in the lab (unsupervised). That was not a good thing, we were always blowing stuff up. McKown was a dedicated teacher, with the patience of Job."
"Mostly I recall the aura of the school," Downs said.
Downs offered some suggestions for aging, "Don't watch Fox and MSNBC News, exercise, hang out with groups of friends, practice random acts of kindness, and be grateful for every day."
Downs did not yet have time to reflect on his first alumni experience.
The alumni enjoyed a luncheon and mini-reunions.
The Heiney Girls grow up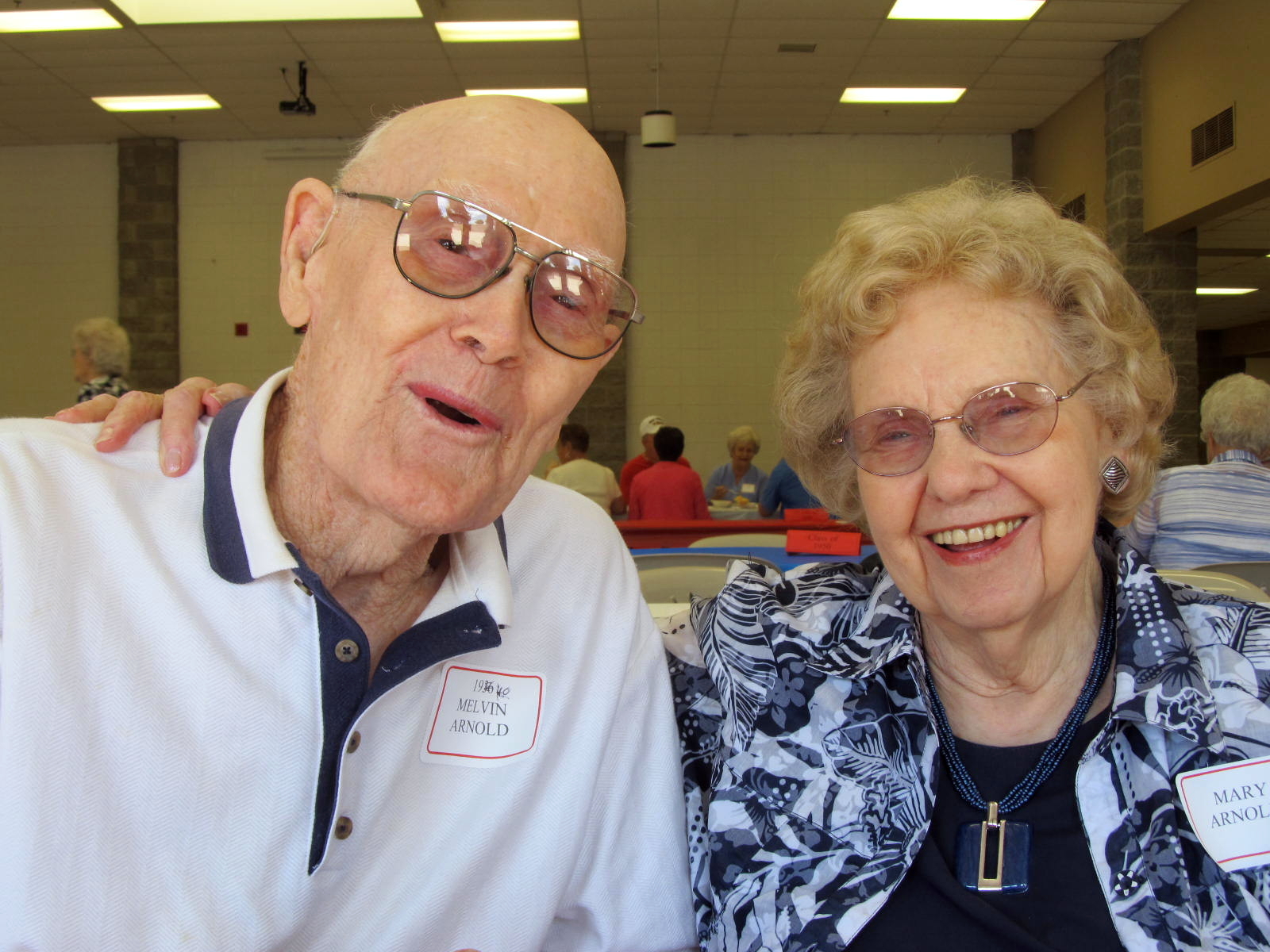 Melvin Arnold, Class of 1940, and wife Mary of Deland, Florida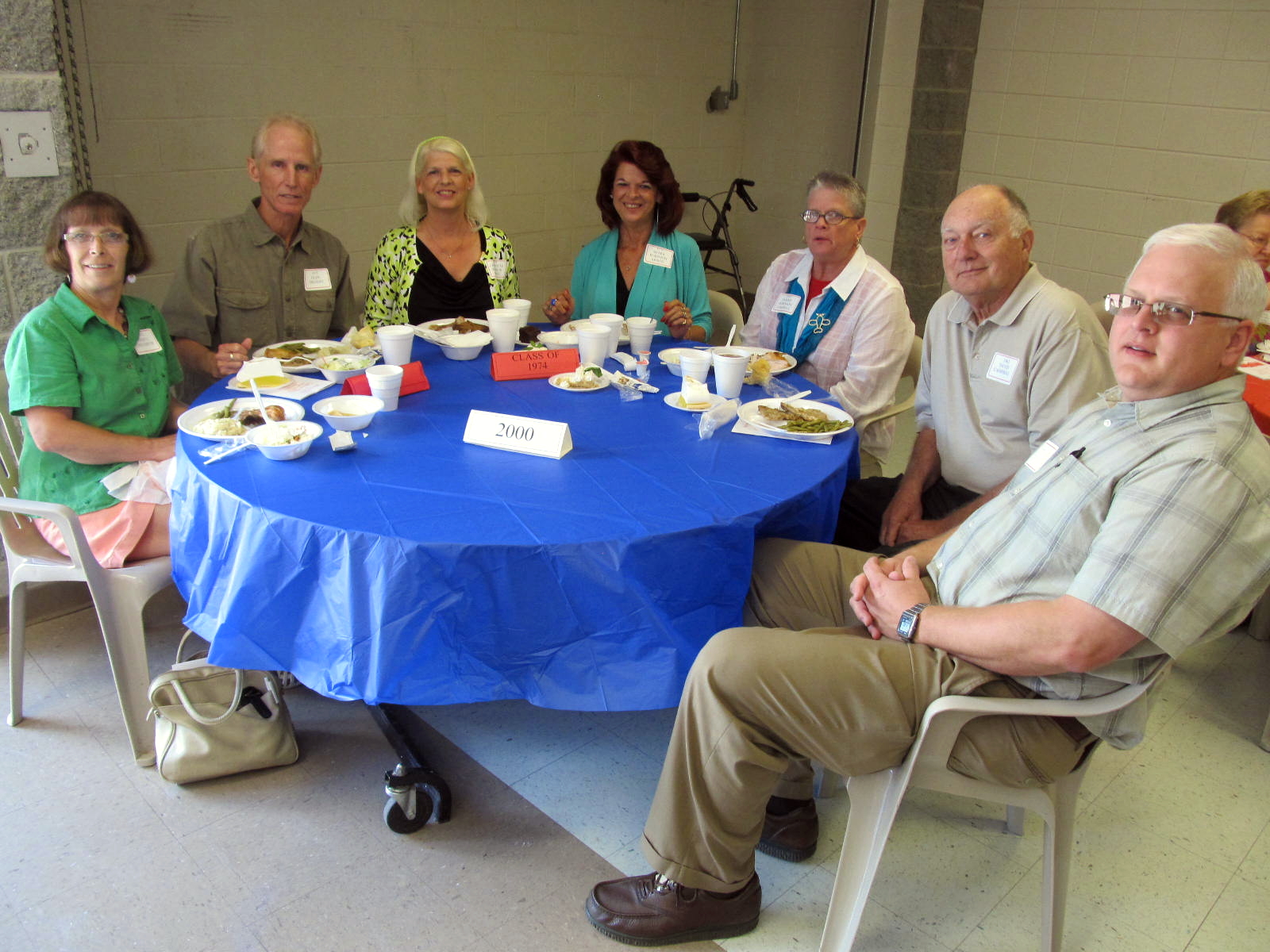 Grads from different classes enjoy lunch and conversation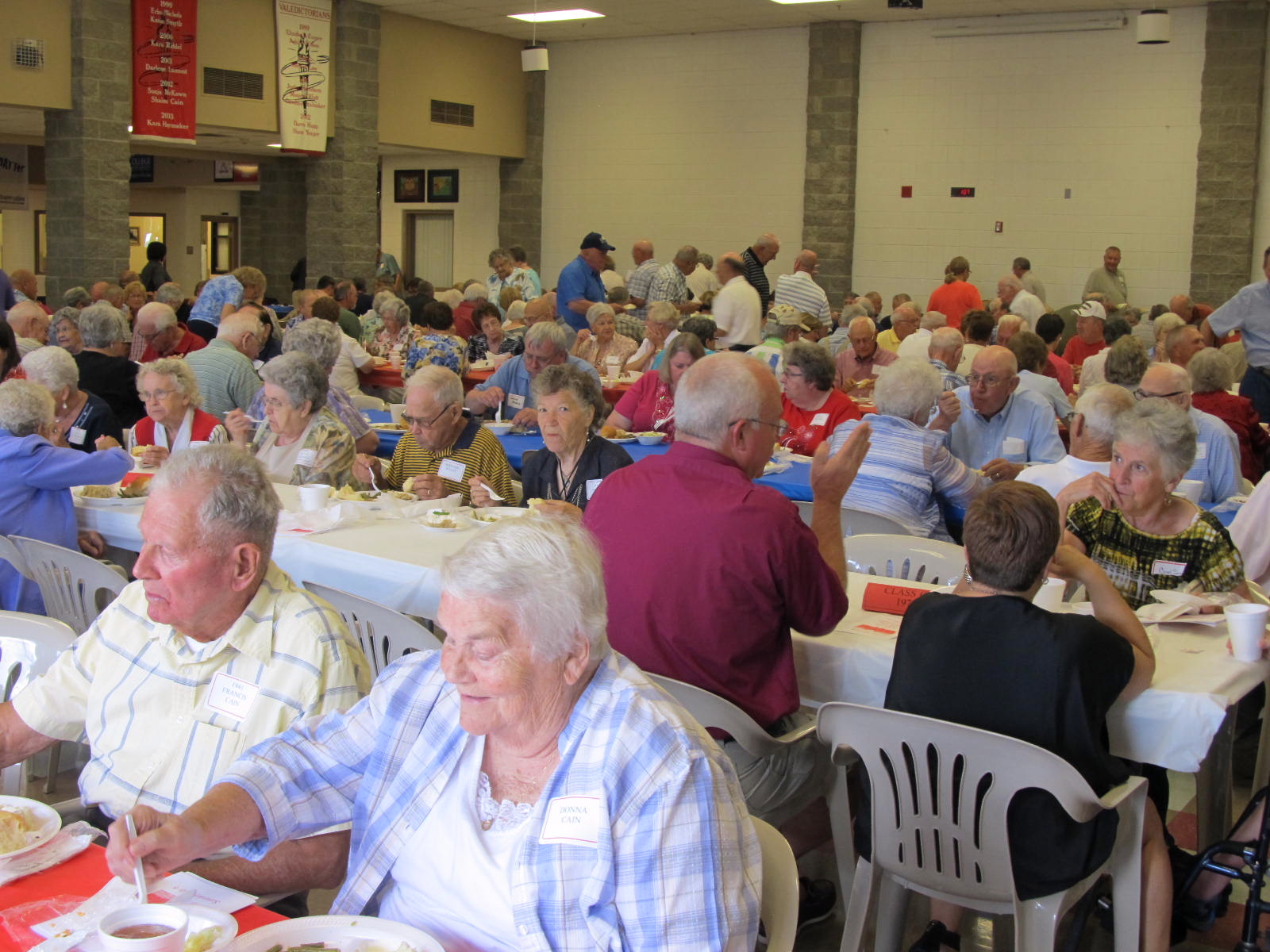 Mr. and Mrs. Francis Cain (1941) in fore-
ground, are traditional alumni attendees