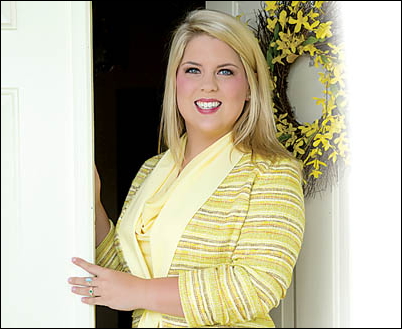 Arnoldsburg resident Ashley Elizabeth Houchin has been selected as Maid Silvia for the 77th Mountain State Forest Festival by Director General Cricket Leary.
"I am thrilled to have Ashley serve as Maid Silvia for the 77th Mountain State Forest Festival," Leary said. "Ashley will be the first Queen Silvia to reign from Calhoun County, which will be perfect for this year's theme 'Old Traditions with New Beginnings.'
"Ashley is a very outgoing and personable young woman; I look forward to everyone having a chance to meet and spend some time with her and her family."
Houchin expressed her excitement about serving as Maid Silvia.
"I am extremely honored to be selected as Maid Silvia for the 77th Mountain State Forest Festival. It feels amazing to be living out a dream of mine and I am excited for the beginning of the Festival events," Houchin said.
Houchin, 20, is the daughter of Jeffery and Kelley Houchin of Arnoldsburg. She is the granddaughter of Billie and Wanda Houchin, of Arnoldsburg, and Ernest and the late Mary Ellen Hartshorn of Grantsville. She has two brothers, Zachary and Matthew Houchin.
The future queen will be a junior at West Virginia University this fall and has been accepted into the Speech Pathology and Audiology Program. She is a Dean's List scholar and a member of the Mountaineer Maniacs. She plans to graduate as a speech therapist and work in an early prevention program or in an elementary education setting in West Virginia.
She graduated as Salutatorian from Calhoun County High School and was an officer for the class of 2011. She was a four-year letterman in volleyball, served as team captain two years and earned a spot on the Class A All-State Volleyball Team two years. She was a three-year letterman in basketball and a three time LKC basketball scholar athlete.
She was also a member of National Honor Society, Mu Alpha Theta Math Honorary, student council and senior homecoming court, as well as serving as a peer mediator, yearbook editor and rural health initiative intern.
She has been a member of 4-H for nine years and enjoys working with 4-H youth at camps. She has worked as a WVU Extension camping instructor at various county 4-H camps around the state. This summer she will be working at her family's business.
Houchin will be crowned as queen of the 77th Mountain State Forest Festival during the Royal Coronation, set for October 4 at Davis & Elkins College. Attended by 40 princesses from around the state, two maids of honor and a minor court, she will receive her crown from Gov. Earl Ray Tomblin in an outdoor ceremony.
"I am so thankful for the opportunity I have been given by Director General Cricket Leary," she said. "I would also like to thank my family for their support. We are all eagerly waiting for the Festival and cannot wait to start meeting all the new people."
The 77th Mountain State Forest Festival will be celebrated in Elkins from Sept. 28 through Oct. 6. For more information, visit www.forestfestival.com or call 304-636-1824.