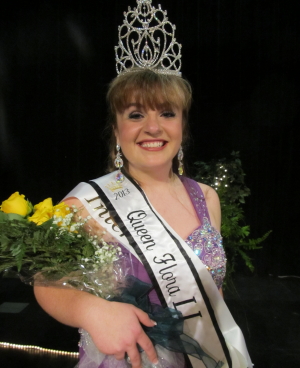 51st Wood Fest's Queen Flora Chelsea Hicks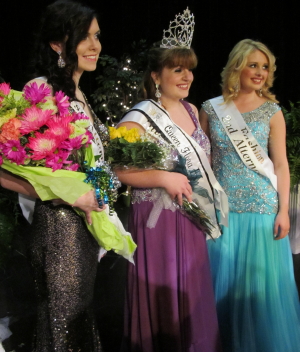 Three finalists (L to R) Stephanie Hall, first runner-up; Queen
Flora Chelsea Hicks; and Shayla Arnold, second runner-up
The 51st Calhoun Wood Festival Queen Flora is Chelsea Hicks of Big Bend, the daughter of Chuck and Gina Hicks. Hicks was chosen by a panel of judges Monday night at Calhoun Middle-High School.
First runner-up, Stephanie Louise Hall of Arnoldsburg is the daughter of Ricky and Patricia Hall.
Second runner-up is Shayla Lynne Arnold of Arnoldsburg, she is the daughter of Phillip Arnold and the late Jennifer Propst Miller.
"Little John" McCormick of Clay County was emcee with his English-West Virginia accent.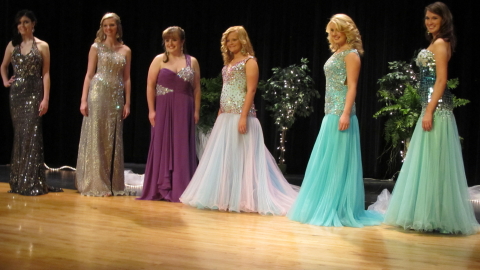 Six contestants vie in evening gown competition
(L-R) Stephanie Hall, Bailie Cain, Chelsea Hicks,
Autumn Jones, Shayla Arnold, Cassandra Lamont
SPECIAL CATEGORY WINNERS
Interview - Chelsea Hicks
Talent - Chelsea Hicks
Personal Style - Shalya Lynne Arnold
Evening Gown - Bailie Nicole Cain
Ms. Congeniality - Stephanie Louise Hall
Ms. Photogenic - Bailie Nicole Cain
People's Choice (tie)- Cassandra Dawn Lamont and Autumn Renee Jones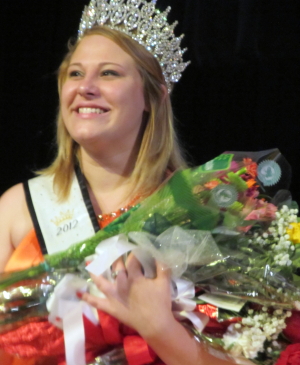 The 50th Queen Flora 2012 Chelsea Marie Jones
SIX CONTESTANTS DEMONSTRATE THEIR TALENT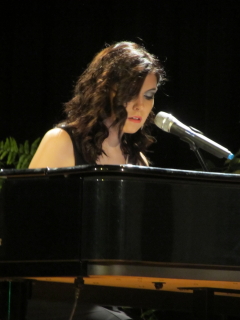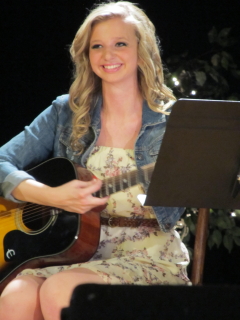 Stephanie Hall plays piano - Bailie Cain plays guitar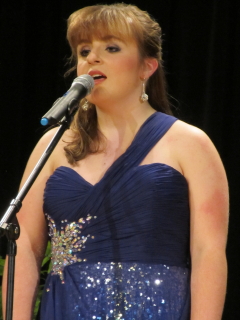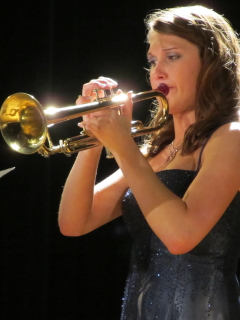 Chelsea Hicks sings - Cassandra Lamont plays trumpet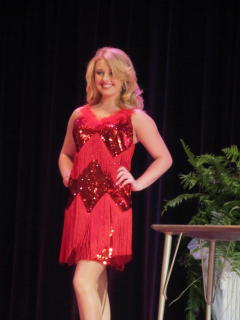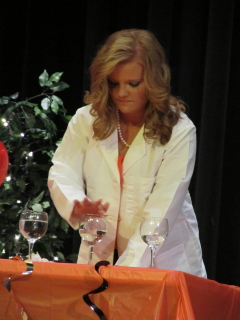 Shalya Arnold dances - Autumn Jones does magic and science
See SIX CALHOUN HIGH SCHOOL JUNIORS VYING FOR QUEEN FLORA LI TITLE - 51st Pageant Monday
50TH ANNIVERSARY QUEEN FLORA L CHELSEA JONES - Fifty Years Of Queen Floras
51 YEARS OF QUEEN FLORAS
1963 - Sharon Bell Wright (deceased)
1964 - Colleen D'Orazio Spalter
1965 - Jeannie Levering Hitching
1966 - Debbie Campbell Fritz
1967 - Susan Morrison Pitts
1968 - Jane Morris Carpenter
1969 - Kathy Johnson Ferrell
1970 - Robin Pitts Hannah
1971 - Alice Jackson Ullum
1972 - Lisa Zannoni
1973 - Toni Himes Newbury
1974 - Debbie Jones Rinehart
1975 - Debbie Fowler Ball
1976 - Sheryl Dettman Stevens
1977 - Bea Wilson Isner
1978 - Eva Starcher Chapman
1979 - Kim Frame Parrish
1980 - Susan Cummings
1981 - Brenda Weekley Whipkey
1982 - Genevieve Sol Olivas
1983 - Susan Lantz
1984 - Pamela Hanlin Bowen
1985 - Brenda Radcliff Harris
1986 - Shanna Lutz Pineda
1987 - Laura Cain Stump
1988 - Mary Franek Petschen
1989 - Leslie Williams Kennedy
1990 - Kari McCallister Lowe
1991 - Stacy Schoolcraft Campbell
1992 - Paige Blankenship Toney
1993 - Lisa Davidson McDonald
1994 - Jenni Mullenax Butler
1995 - Michelle Maack
1996 - Crystal Ganoe Bonnell
1997 - Sarah Morgan Limer
1998 - Sarah Walker Doak
1999 - Rachel Richards Smarr
2000 - Miranda Richards
2001 - Tiffany Jones Garrett
2002 - Sarah Jane Lynch
2003 - Victoria Lamont Brislin
2004 - Whitney Johnson Butler
2005 - Casey Westfall
2006 - Hanna Law
2007 - Amie Carilli
2008 - Maria Kisner
2009 - Chelsey Ball
2010 - Amera Yoak
2011 - Jordan Mace
2012 - Chelsea Jones
2013 - Chelsea Hicks