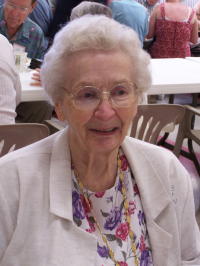 The oldest Calhoun County High School graduate returning for the annual Alumni Day in July has been Eileen Hamilton Whitman. Whitman is registered to attend this years event.

94-year-old Ola Jarvis Stafford recalls Eileen from her early days in Grantsville. "Their house on Main Street (Hamilton) burned down." she said. George Hamilton, her father, was of the Hamiltons of Grantsville.

Eileen was born in Grantsville in 1918, the daughter of George W. (1893-1947) and Losie Esperance Knotts Hamilton (1896-1970), having also lived at Minnora.

George was the son of well-known Grantsville citizens John M. and Minnie Cook Hamilton, George and his wife having eight children in addition to Eileen.

Eileen attended Glenville State College, returning to Calhoun to teach a one-room school on Little White Oak, and was later an attache to Senator L. J. Morris of Grantsville.

Later she was employed by the WV Dept. of Welfare and the WV State Road Commission, before marrying Layton Whitman, they having eight children.

John Hamilton, her father, owned a confectionery and general store in Grantsville which was destroyed by the great fire of 1919, while also teaching in one-room schools.

He rebuilt his store, but then his home on Main Street burned to the ground in 1927, after which the Hamilton family moved to Minnora, purchasing and operating a store there that also burned in 1930.

The Hamilton's always stressed education, and all their children attended college, most pursuing professional careers.

Former graduates of Calhoun County High School will renew acquaintances at the 26th annual Alumni Day at Mt. Zion on July 6.