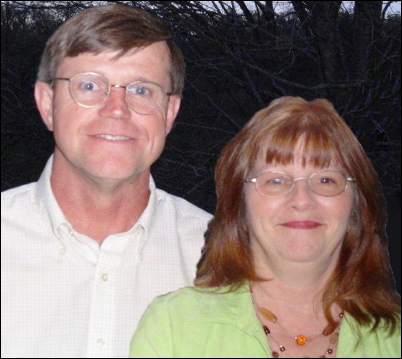 The Committee of the 51st annual Calhoun County Wood Festival is proud to announce this year's Grand Parade Marshals are Rick and Arlene Sampson.
Both Rick and Arlene are native to Calhoun County, living here their entire lives.
Rick attended the two room school at White Pine while Arlene went to Brooksville Elementary. Both graduated from Calhoun County High School.
The Sampson's have three children. John, who works for CONSOL Energy in Jane Lew, Kelly, who is an Elementary Teacher at Arnoldsburg School and Amanda, who is the director of Day Reporting Center in Point Pleasant.
Rick and Arlene attend First Baptist Church, where Rick is a Trustee and works with the youth in the church.
Rick and his family owned and operated Grantsville Pro Hardware for eighteen years. He has served on various boards through the years including Community Resources Incorporated, Family Resource Network, Community Foundation, Little Kanawha Area Development Corporation and is currently the President of the Little Kanawha Transit Authority.
He was instrumental in keeping the transit authority based in this area. Rick served as Calhoun County Commissioner for six years. During his time of service he worked diligently to acquire walking tracks on Wayne Underwood Field and at the West Fork Community Park. In addition, got employment opportunities back in Calhoun County at the old BF Goodrich Building.
Arlene worked many years at Minnie Hamilton Health System as an LPN on Acute Care and as the Restorative Nurse on Long Term Care. She went on to receive an Associate Degree in Nursing and later obtained a Bachelor's Degree.
As Nurse Manager at Minnie Hamilton, Arlene was able to obtain blood pressure cuffs and scales for patients with congestive heart failure to take home upon discharge which would help monitor blood pressure and weight.
Arlene saw a need for those people who could no longer live at home alone but did not need to be in a nursing home. Realizing the opportunity Arlene and Rick opened Aging with Grace Assisted Living in 2006.
It is a sixteen bed assisted living home which has provided employment for nine people in our community. Arlene also works part-time at the Calhoun County Committee on Aging as Case Manager for the Waiver Program. An in-home program designed to keep the elderly in their home as long as possible.
"Rick and I would like to thank the employees of Aging with Grace for the care they give, they go above and beyond in everything they do", said Arlene. "Also the Churches and Youth Groups for all they do for our residents, we have a wonderful community to live in", she said.
Rick and Arlene are known for showing their generosity and compassion to their fellow citizens without seeking recognition. Their selfless dedication to the community cannot go unrecognized.
They will honoraly serve as the Grand Parade Marshals for the 2013 Calhoun County Wood Festival.
See calhouncountywoodfestival.com