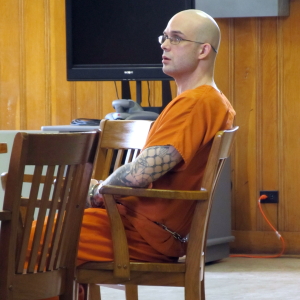 William Seth Denmark in Calhoun courthouse sentence hearing
William Seth Denmark of Arnoldsburg was sentenced Monday to a "definite" 25 years in prison Monday by Judge David W. Nibert for the murder of teen David Beach.
The sentence was reached through a plea deal between Prosecutor Shannon Jones and Denmark's attorneys, with Denmark pleading no contest to a 2nd degree murder charge.
Judge Nibert said,"The plea does serve justice...This is a case that contains many uncertainties," likely referring to the fact that Beach's body was never discovered.
Nibert said Denmark will receive credit for time served, having been incarcerated since March, 2010, meaning three years and two months off the 25 years.
Barbara Ann Hicks, David Beach's mother, died not appear in court to make a victim's impact statement, but she did submit a written statement, according to Judge Nibert.
Judge Nibert had rejected a plea deal put forward last year.
An eyewitness claimed to have witnessed the shooting and burial of Beach, but police were unable to find the body in the alleged grave.
Dr. Douglas Owsley, a renowned forensic anthropologist, was set to testify in the case after the contents of the grave site had been sent to the Smithsonian.
Dr. Owsley assisted police in cases such as the 9-11 Pentagon plane crash and recovery and identification of members of the Waco Branch Davidian, and was involved in identifying the remains of a long-missing Spencer woman, Christian Dawn Starcher Seabolt.
SETH DENMARK ARRESTED - Denmark Family Jailed, Complaint Says Missing Person In Grave, Police Say Denmark Shoots Youth In 2006
SETH DENMARK CHARGED WITH MURDER OF DAVID WAYNE BEACH III - New Forensics Build Case, Bullet Found In Grave
JUDGE NIBERT DENIES REQUEST TO BOND DENMARK - Prosecutor Says 1st Degree Murder Charge Pending, Judge Orders Psychiatric Evaluation
DENMARK PLEA DEAL OFF THE TABLE - Judge Does Not Accept Deal, Denmark Outburst: "I Did Not Kill My Friend"
SMITHSONIAN EXPERT TESTIFIES AT DENMARK PRE-TRIAL - Murder Case Set For Trial On April 23