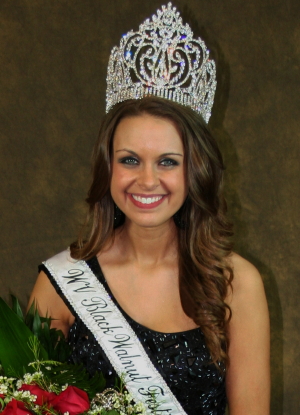 Leslie Dawn Garrett of Mt. Zion was selected as the 59th WV Black Walnut Festival Queen during competition held on April 27th at Roane County High School.
Garrett was crowned at a Thursday ceremony.
It has been 47 years since a Calhoun woman has captured the Black Walnut Festival crown.
Leslie will represent the Black Walnut Festival at the 2014 West Virginia Association of Fairs & Festivals (WVAFF) pageant held in Charleston.
She made her debut on the WVAFF stage in 2009 when she represented the Calhoun County Wood Festival. Leslie is also the 2010 Clay County Golden Delicious Festival Queen, 2011 Richwood Ramp Festival Queen and the 2012 Lewis County Fair Queen.
In 2011, while representing the Clay County Golden Delicious Festival, she was selected as 3rd runner up at the Miss WVAFF pageant. This January, while representing the Lewis County Fair, she was selected as 2nd runner from a field of over 90 contestants.
Leslie is the daughter of Stanley and Pamela Garrett of Mt. Zion. She was a 2010 graduate of Calhoun County High School and will graduate from the University of Charleston in December with a biology degree. She then plans to pursue a master's degree.
The WV Black Walnut Festival will kick off with the Queen's Coronation on October 10th.
Please visit www.wvblackwalnutfestival.org for more festival information.