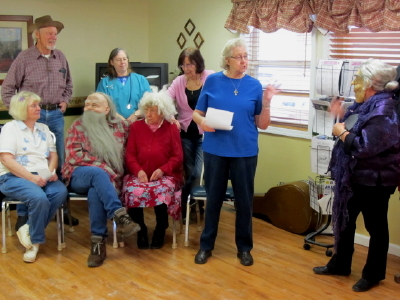 THE YOKUMS COME TO TOWN
West Fork Sr. group performs their almost award-winning play
about a country bumpkin' family - Front (L-R) Diane Bernier,
Clara Roberts, Gae Bailey; Standing: Jessie Hicks and Marty
Parks; Rear (L-R) Larry Cottrell, Karen Badgett, Inga Brewster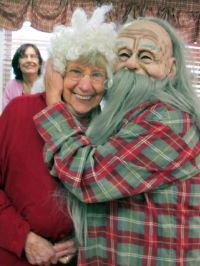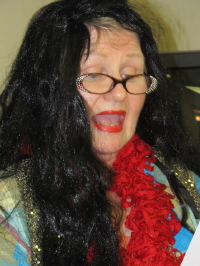 Characters Diane Arcuri (L) and Gae Bailey, Clara Roberts (R)
The West Fork Senior Center has become a lively community center, with ever increasing numbers, according to Marty Park, coordinator.
Thursday's activities included the center's production about a bumpkin country family, music, line dancing, and a buffet.
"It's quite a group," said Parks, saying some people believe the center is just a place to come and get a meal.
There's an exercise room, crafts, line dancing, bowling, day trips, bingo and corn hole. "But some folks come just to visit," Parks said.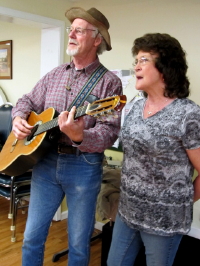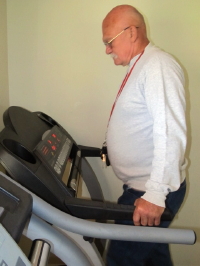 Larry Cottrell and Sharon Knotts perform,
J. D. Brewster works-out on treadmill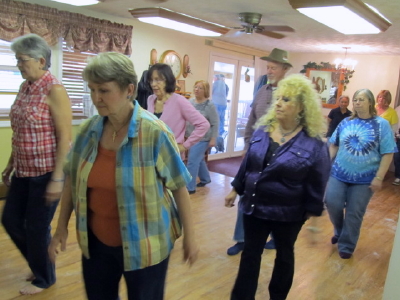 Several seniors join in line dancing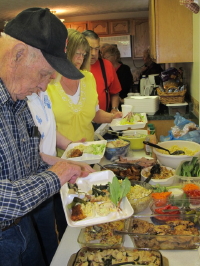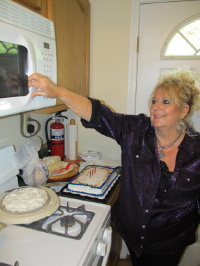 Scott Bailey joins guests for buffet luncheon,
while coordinator Marty Park helps with meal

"We're always inviting people from the community to come and participate. They won't regret it," she concluded.

The center is now putting together a cook book.

It is adjacent the old Minnora School along Rt. 16.