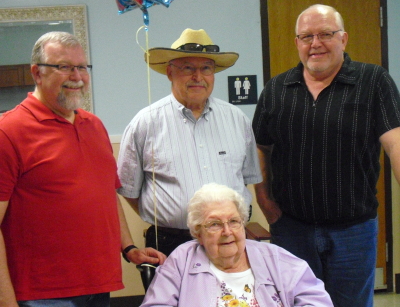 Lillian and her three sons (L-R) David, Nelson and Jim
On April 14th, Lillian Bland, long time resident of Mt Zion and now living at the Minnie Hamilton Long Term Care in Grantsville, celebrated her 93rd birthday on April 14th with the help of several family members and friends.
Lillian, when interviewed on her 90th birthday, said she never expected to live this long, "But I did want to live long enough to see my three boys raised and have a life."
Helping her celebrate was her son Nelson Bland and his wife Virginia from Libby, Montana; Jim Bland and his wife Jeanie from Elizabeth, and Jim's daughter Ashley Wanosky and her husband Alan and daughters, Gillian and Juliet from Parkersburg and David and his wife Sharon and son Cody from Pasadena, Maryland.
Through the use of SKYPE she also received birthday greetings from grandson Scott Bland and family in Katy, Texas: grandson Eric Bland and family in Pasadena, Maryland; and grandson Captain Jason Bland and family, U.S. Air Force, now serving in Germany.
She also received calls from granddaughter Trava Williamson from Libby Montana and grandson Ward Bland from Missoula, Montana.
More than fifty people stopped in to say hello and wish her a happy birthday.
See "I'VE SEEN A LOT OF CHANGES" - Lillian Bland Slides Past 90