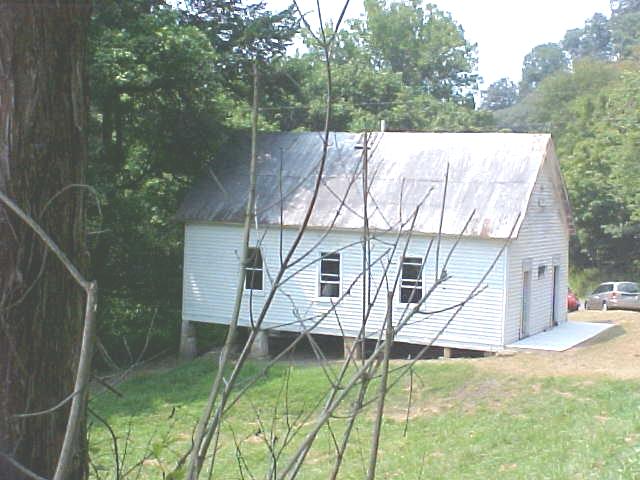 Cedar Grove Church still brings old-timers back
By Bob Weaver
The Cedar Grove Church Homecoming is a quiet affair, little announced. A gathering of families whose lives centered around the tiny church along the banks of the West Fork of the Little Kanawha, south of Creston near Cremo.
About 75 gathered this past Sunday to remember the old days, look at photo albums and enjoy some good food. The numbers are dwindling as the older folks have died. Again, the Jim Bell Fish and Pickle Company, assisted with the satisfying of appetites.
Boyd Duskey, whose roots are deep in the tiny community, generally leads the once a year service, which includes hymn singing, a little preaching and testimonials. The church, when used in the winter, is lit by kerosene lamps and heated by a wood stove.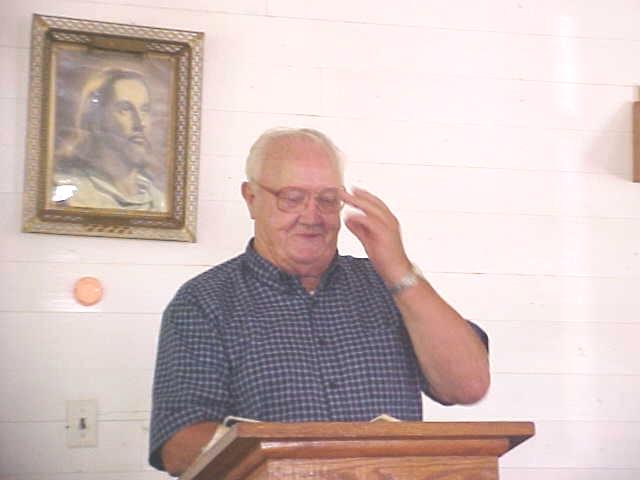 Boyd Duskey keeps them coming back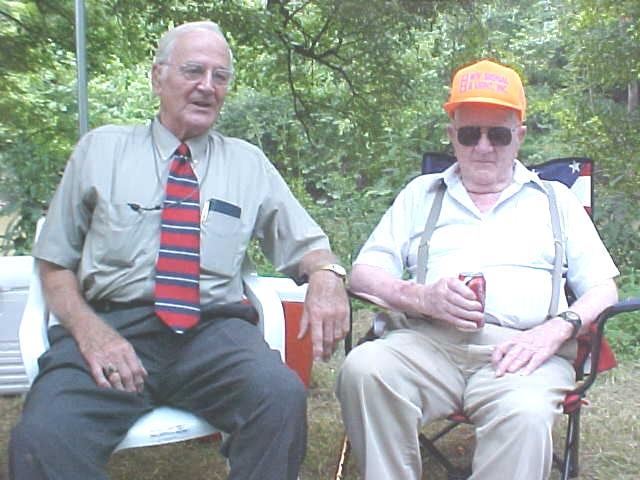 Joe Nutter (L) and Edgar Cooper (R) visit along the West Fork
Joe Nutter, who grew up near the old church, recalled most of the families who lived at the mouth of every holler. Nutter is an active member of the Roane County Historical Society. Many of the families who went to church at Cedar Grove were from Roane, just across the West Fork.
Rev. Edgar Cooper of Creston enjoyed the afternoon. When first asked how old he was, responded with "Old enough to sleep by myself." He is 86.
Duane Poling and wife Willa came. Duane and his dad operated a country store at nearby Cremo during the 20th century, delivering groceries and feed up and down the West Fork hollers.
Ralph Cunningham, originally of Cunningham Ridge, picked his magnificent homemade banjo. And what an object it is. (See photo) The Cunninghams are entrenched residents, although many have moved away.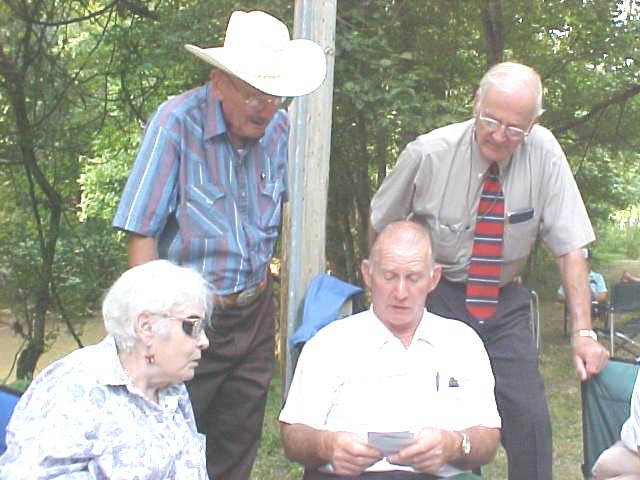 Jim McCormick shares old pictures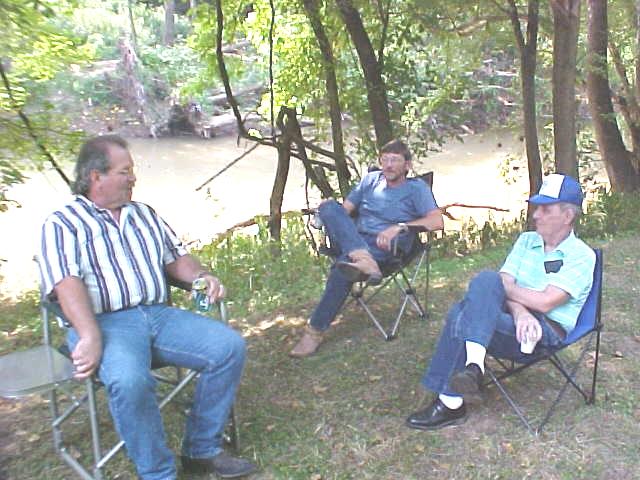 This bunch is tellin' some tall tales
The Mowery bunch was represented and lots of other folks, including Blanche and Randall Whytsell, rebounding from last week's Whytsell Reunion, one of the largest they have ever had. Jim McCormick, who grew up across the creek on lower Barnes Run, was on hand with his wife.
"We hope to meet again next year." concluded Boyd Duskey.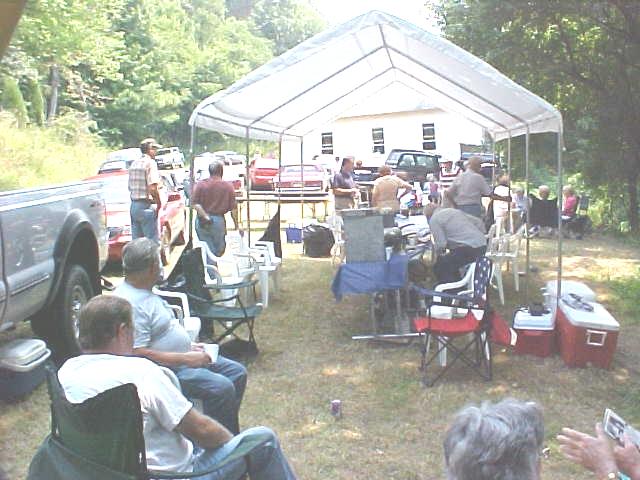 Resting after the big meal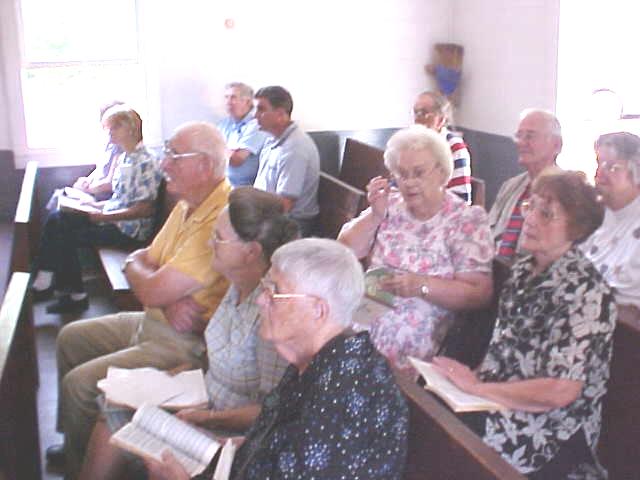 Hymn singin'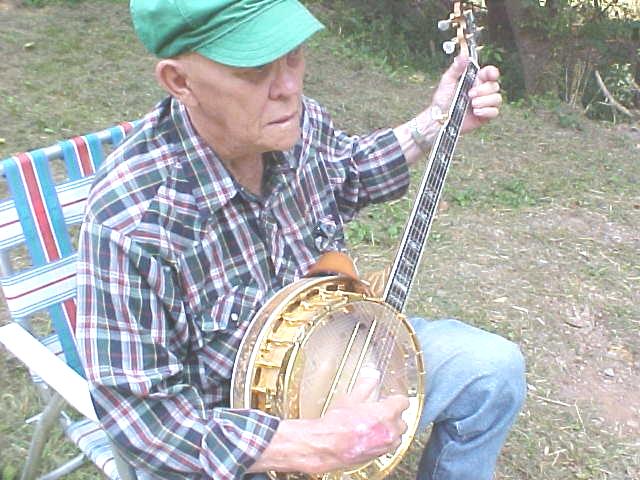 Ralph Cunningham pickin' banjo made by his own hands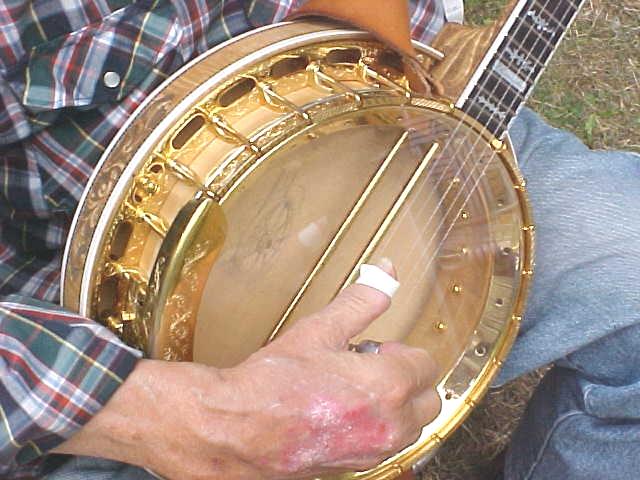 Beautiful etching on Cunningham's banjo