PEARL KING IS NOW DECEASED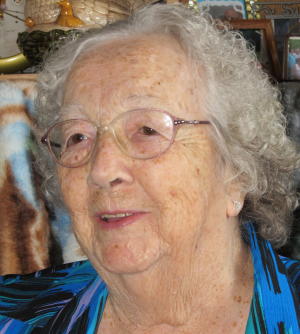 Calhoun's newest Centenarian Pearl King
By Bob Weaver
A well-known Arnoldsburg, Calhoun woman becomes a centenarian on March 28, 2013.
Pearl Wallbrown King, alert with memory in tact, celebrated the occasion over the weekend at the home of her son, Bernard King of Ripley.
For about 50 years she wrote a community news column for The Calhoun Chronicle and the Roane County Reporter. "My eyesight got too bad, and I had to quit," she said.
Community news writers were awarded with a free subscription to the weekly newspapers, a publishing tradition which has almost faded.
"Since childhood I was a reader of books," Peal said, "Now my eyesight is bad, I listen to recorded books from the library."
Pearl grew up on the Cabin Run area of Beech, daughter of William Henry and Grace Maude Price Wallbrown, attending a one-room school and walking two miles to attend church every Sunday.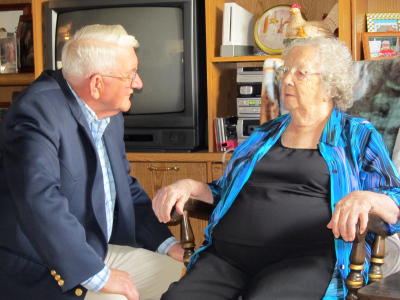 Rev. Carl Marks visits Pearl, celebrating her special day
"I grew up with strict and loving parents. I learned that no meant no, and was taught principals and values," she said.
The Wallbrowns owned a 100-acre farm. Pearl said she did her share of fence building, feeding chickens, milking cows, and riding a horse to the mill to grind meal, but admits she did manage to "slip off and go fishing a bit."
At 19 she met and fell in love with Willie Lee King, marrying him in 1932. She and her husband sought independence and lived in a tiny two-room house "in a hollar" on Spring Run during the Great Depression.
"We paid $1 a month rent, and you could see the ground through the cracks of that house. I managed to get a piece of linoleum to cover the floor," she said.
They had two sons, Billy Dean and Bernard Eugene King. In 1978 her husband passed, and she continued to live in the family house at Leatherbark until she moved to live with her son Bernard in 2010. Her son Billy Dean passed in 2006.
After she moved from her home, it mysteriously burned to the ground, with suspicion of arson.
She has eight grandchildren, 18 great-grandchildren and 15 great-great grandchildren.
Pearl enjoys reminiscing about the "good ole days." Over the years she enjoyed quilting, crocheting, and making Barbie doll clothing.
While her eyesight is dimming, she remains full of life, listening to audio books, visiting her sister Hazel Ruth Wallbrown who is 102, and her niece Myrtle Carpenter. During the week, her caregiver Teresa Workman and granddaughter Pam King takes her wherever she wants to go.
See CALHOUN CENTENARIAN TURNS 102 - Hazel Ruth Wallbrown Brannon 'Excited About Birthday'
"My childhood was full of happy and cherished memories," saying she has lived to 100 by "keeping busy and living a clean life."