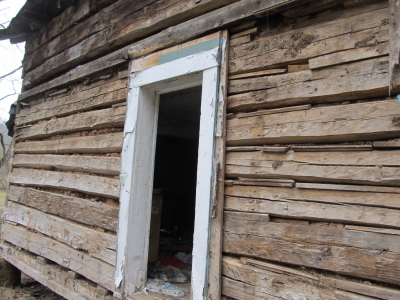 Sturdy sixteen x thirty foot Beech
log house dates back to 1800s
What early settler built the two-story cabin after the Civil War in a hollow off Beech Road is not known, but a number of families come of age in the rustic house which was skidded to the Beech Road valley about 80 years ago.
The house is likely 125 years old, with the logs in good condition because the dwelling was sided many years ago.
The cabin is 16 foot wide by 30 foot long, and has chestnut oak and yellow poplar logs up to 30 foot long, some 14" x 16."
Lee (1899-1976) and Ocie Bailey (1904-1970) Hall gave new life to the old dwelling about 1930, apparently buying the structure from Lewis Church.
Hall had seven children, sons Darrell, Paul, and Guy, and daughters Wanda Houchin, Norma Starcher, Sylvia Craddock and Bernice Metheney.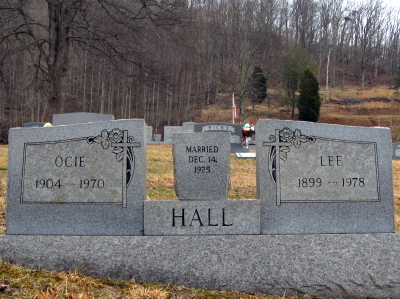 Hall and his wife rests in Bailey
Cemetery above the old log house
In later years the Don and Lillie Falls Butler family purchased the house, according to son Frank Butler. "My family (14 children) moved into the house in the 1950s. We all had a bed, the boys in one room and the girls in the other," Butler said. His dad built on some extra rooms, which have now been removed from the original structure.
Butler said we've decided to sell the log house to someone who wants to move it to their site, hopefully to restore it.
Interested parties can call Gail Butler at 304-655-8057.