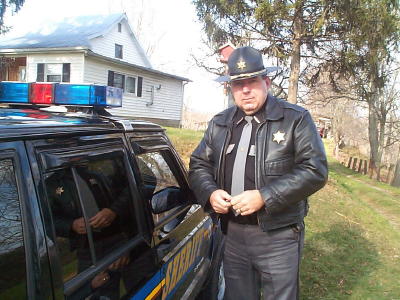 It was 10-42 for Sheriff Allen D. Parsons as 2013 arrived, ending a "tour of duty," a 33-year law enforcement career.
Parsons is retiring after serving five terms as Sheriff of Calhoun County, plus other years in law enforcement, undoubtedly the longest serving sheriff of the county.
"It has been a privilege. I enjoyed doing what I did and I tried to help people," Parsons said.
During his last term, Parsons has had multiple health problems, including a critical incident with a bleeding ulcer that "Nearly took me down," he said.
During his long career, Parsons dutifully devoted thousands of hours beyond a 40-hour-week.
Recalling his career, he said the most dangerous times have been in knocking at doors at night when guns are present, when people are really troubled or suicidal, often domestic problems.
"Stopping cars when people feel 'against the wall' or in cases where the person is disoriented on alcohol or drugs, or their mental status leads to a mental hygiene situation," he added.
"I have experienced many tragic situations, and have had knives thrown at me."
Parsons recalled the most brutal murder scene he witnessed, the killing and mutilation of George Duskey of Richardson in 1975.
"Still having some compassion for people when they do terrible things, has been a virtue most of the time," he concluded.
"10-42" to a long career.