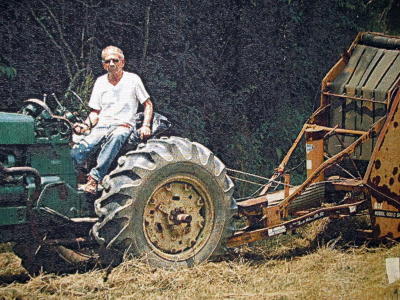 A coverlet made from a photograph featuring Molasses
Festival parade marshal Vere Brannon on display in
September, doing what he has done most of his lifetime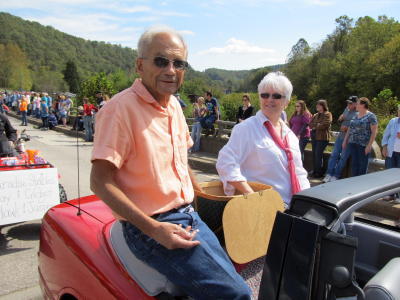 Vere and Susie Brannon, Molasses Festival parade marshals 2012
Well-known West Forker Vere Brannon, 78, has passed after a stalwart battle with cancer.
Brannon was a descendant of one of Calhoun's pioneer families, who carved their sustenance from the sod in the West Fork Valley.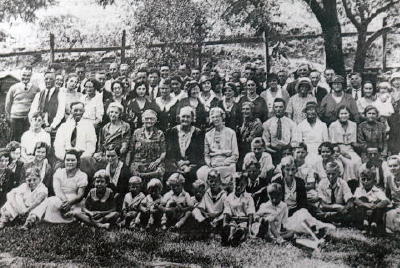 A Brannon Family Reunion in Arnoldsburg in 1930, descendants of Thomas P. Brannon, son of William Brannon Sr., listed in Hardesty's History of Calhoun County and Col. DeWeese's Recollections of a Lifetime, some of the first settlers of Calhoun
Vere carried on the tradition throughout his lifetime, farming and raising cattle, but just gave it up after 50 years. One of his passions was working on old cars and equipment.
Brannon and his wife Susie recently served as Parade Marshals in the 45th West Virginia Molasses Festival parade at Arnoldsburg.
"It's an honor. We've been in this community our entire life. It's been the best place to be. It's home," said Vere.
He will likely be best remembered by the Arnoldsburg community for operating a service station in Arnoldsburg for 25 years, although he has held other jobs in construction and a stint in the US Army.
See complete obituary Vere Harold Brannon
Also   VERE AND SUSIE BRANNON 45TH WV MOLASSES FEST PARADE MARSHALS
BRANNONS HAVE 200 YEAR CALHOUN HISTORY - Old Peter McCune Donated His Log Cabin