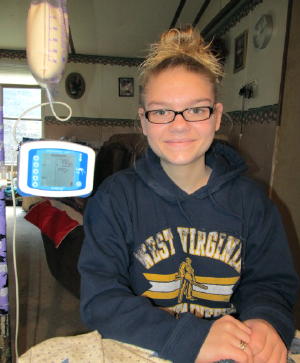 Kylie Starcher keeps hope while facing rare disease
By Bob Weaver
A Calhoun teen is struggling with a rare and difficult disease to treat that affects about 5,000 in the USA, mostly female.
Fifteen-year-old Kylie Starcher, daughter of Doug and Becky Starcher of Mt. Zion (Rowels Run), has been stricken with Gastroparesis, which prevents the digestion of food or even the taking of fluids.
Kylie's symptoms first appeared in 2010, immediately vomiting when she ate or drank fluid, but the diagnosis was not made until 2011 when she went to a Columbus OH medical center.
Gastroparesis is almost always misdiagnosed as an eating disorder with anorexic symptoms, and generally follows a healthcare problem that affects the digestive system, in Kylie's case it was the removal of her gall bladder. The disease mostly affects teenage girls.
Her mother, Becky, says, "Every day is a challenge. It's one day at a time."
Kylie is hooked to an IV bag for nutrition and fluids with a stomach tube to her small intestine. That's just a small part of her treatment, having to take eight medications daily.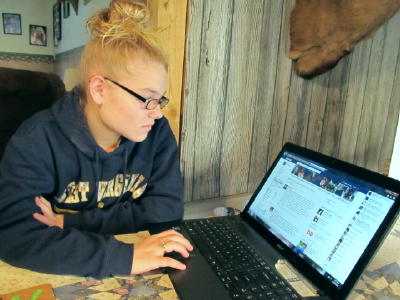 Kylie keeps in touch through Facebook with young
women who are facing the complicated disease
Unable to attend school, she has an in-house tutor, and generally finds it difficult to travel, getting motion sickness.
"Besides not eating and drinking like normal, I've had to give up running, jumping, swimming and horseplay, and some relationships with my friends," Kylie said.
"Some people have been sorta cruel about my condition, thinking it is contagious, some even believe that I'm just doin' this to get on disability."
Kylie's mother said the daily procedures her daughter has to follow to stay alive seems endless.
She often gets nauseous while doing routine things, but fascinatingly she enjoys cooking shows on TV and likes to cook family meals, even though she cannot stand to taste the food.
Gastroparesis requires frequent visits to medical providers, including visits to heart and lung specialists.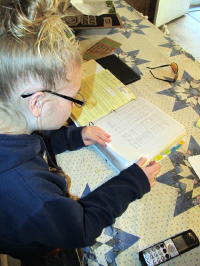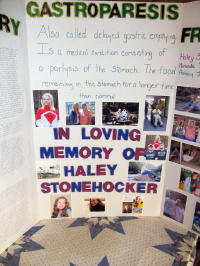 Kylie has kept an album tracking her battle with the
disease (left) and has put together a poster in memory
of a friend who just died from the disease
Kylie spends part of her day on a Facebook support page with a few hundred girls that make entries. One of her friends, 18-year-old Hallie from Utah, a girl she met at the Columbus medical center, just died.
"Now, I'm trying to stay healthy and achieve my goals in life...with help from my Lord and Savior," Kylie said.
A special event regarding Gastroparesis Awareness is scheduled at Minnie Hamilton Health System on December 8 at 1 p.m., with a sale of baked goods, ribbons and wooden butterflies, with a canned food drive for the local food pantry.
Her mother says it is important to Kylie for the public to understand the disease.